'Get Out' Trailer: Jordan Peele Directs A Blumhouse Production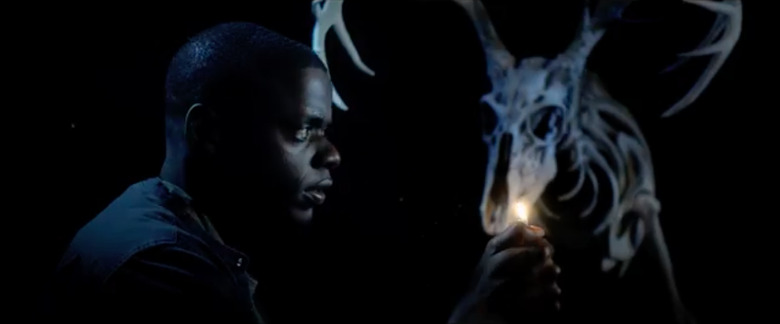 Two years ago was when we first got some real details on Jordan Peele's Get Out. The Key and Peele star said he was interested in making a horror movie that "does jump off of racial fears" and "the fears of being a black man today." With his directorial debut, Peele wanted a protagonist he doesn't see in horror movies. The director has made a horror movie that explores race, but he's also made a horror movie that looks wild, violent, a little funny, and with something to say.
Below, watch the Get Out trailer.
Peele's film stars Daniel Kaluuya (Sicario) and Allison Williams (Girls) as a couple. Things are starting to get serious between Chris and Rose, and serious enough for Rose to decide it's time to introduce Chris to her parents (Catherine Keener and Bradley Whitford) during a weekend at the family estate. Initially, Chris believes Rose's family is acting off because of Rose's interracial relationship, but the real reason for their uncomfortable behavior isn't discovered until later. Get Out co-stars Caleb Landry Jones (Antiviral), Milton "Lil Rel" Howery (The Carmichael Show), Betty Gabriel (Good Girls Revolt), and Keith Stanfield (Straight Outta Compton).
Here's the Get Out trailer:
Peele has always said there'd be elements of comedy in Get Out. But for the most part, it looks like his story leans more heavily on horror than humor, although there are a few fun jokes and bits in the trailer. There is some strange imagery (the above photo, for example) and environments shown, which leave us excited to get the context. This trailer shows a lot, without ever revealing too many of the film's potential secrets. By the end of this first look at Get Out, who isn't looking forward to finding out Catherine Keener and Bradley Whitford's characters' motivations? And who doesn't want to see Keener and Whitford play villains in a horror movie directed by Jordan Peele?
Here's the synopsis:
In Universal Pictures' Get Out, a speculative thriller from Blumhouse (producers of The Visit, Insidious series and The Gift) and the mind of Jordan Peele, when a young African-American man visits his white girlfriend's family estate, he becomes ensnared in a more sinister real reason for the invitation. Now that Chris (Daniel Kaluuya, Sicario) and his girlfriend, Rose (Allison Williams, Girls), have reached the meet-the-parents milestone of dating, she invites him for a weekend getaway upstate with Missy (Catherine Keener, Captain Phillips) and Dean (Bradley Whitford, The Cabin in the Woods). At first, Chris reads the family's overly accommodating behavior as nervous attempts to deal with their daughter's interracial relationship, but as the weekend progresses, a series of increasingly disturbing discoveries lead him to a truth that he could have never imagined.
Get Out opens in theaters next February.