'Wolverine 3' Reveal Coming Soon; Hugh Jackman Teases "Very Different" Tone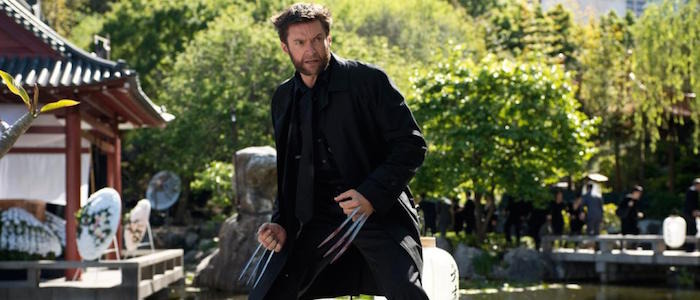 It's hard to believe the next Wolverine movie is less than six months away, especially given how little we've seen or heard about it. We've yet to see a single teaser, poster, or official still. Heck, the movie hasn't even revealed an official title. But we can expect a big reveal soon, according to Hugh Jackman. The star says we'll get more details "in the next week or so." And to get the party started, he teased a "very different" tone for his final outing as the clawed mutant. 
Jackman gave a Wolverine 3 update to ET:
We've finished shooting. I just saw [director] Jim Mangold today. He's editing away and finishing that. I'm very, very excited about it. There's going to be some stuff coming out in the next week or so. That's all I'll say. I'm not good. I'm the kind of person who tells everybody everything. Basically, it's going to be different. Very different in tone and hopefully different to anything we've done.
The next Wolverine movie will be Jackman's last time playing the role he's had since 2000's X-Men. Fittingly, it's based on the "Old Man Logan" storyline from the comics, which takes place in the future and sees an aged Wolverine called back into action. Patrick Stewart is set to reprise his role as Professor X, possibly also for the last time. As hinted in X-Men: Apocalypse, the villain will be Mister Sinister.
While Jackman did not expand on the "different" tone of Wolverine 3, it probably has something to do with the planned R rating for the film. "It's violent, it's kind of like a Western in its tone," said producer Simon Kinberg earlier this year.
Wolverine 3 arrives March 3, 2017. Boyd Holbrook, Richard E. Grant, Stephen Merchant, and Elizabeth Rodriguez also star. Michael Green and David James Kelly wrote the script.