'Westworld' Cost How Much? It's HBO's Biggest Premiere In Almost Three Years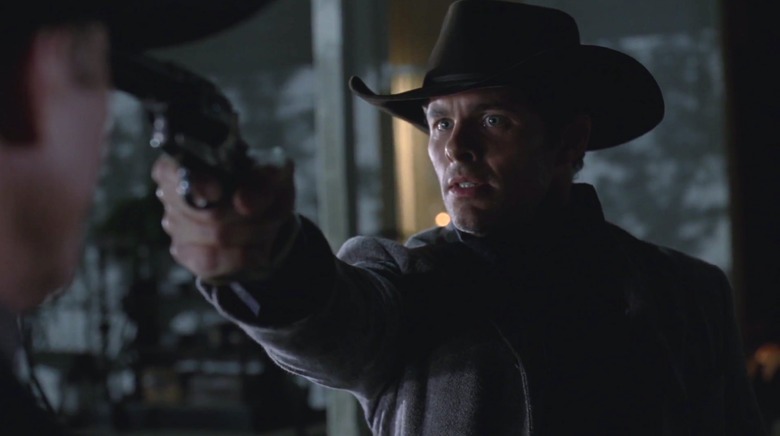 Westworld isn't a cheap show to produce. The brass at HBO believed in the show to bet as big as they did on creators Jonathan Nolan and Lisa Joy's reimagining of Michael Crichton's 1973 film. But the good news is that it looks like that bet is already beginning to pay off. Not only did the pilot, which cost $25 million, get HBO their highest rated premiere since True Detective, it's also already found an enthusiastic audience.
Below, learn more about the Westworld ratings and budget.
Season one of the once troubled Westworld cost $100 million. According to The Hollywood Reporter's sources, the excellent 90-minute pilot alone cost a quarter of that budget (and $5 million more than the Game of Thrones pilot), in small part due to the reshoots. The other nine episodes cost around $8 million or $10 million. The cost is split between HBO and Warner Bros. Television, and the former has to pay a significant license fee for Westworld. HBO leads the way on the show, though.
HBO's head of programming, Casey Bloys, said the show is one of HBO's pricier projects, but it's not as if the fate of HBO rested on its success:
I'm sure it's among the more expensive ones but I can't tell you that it is the most expensive one we've ever done; I would imagine it is [among them]. The notion that it's Westworld or nothing, I understand the comparisons to Game of Thrones because they're both big genre pieces, but the fate of the network doesn't rise or fall on this show. That being said, it would certainly be great if it connected with an audience.
Thankfully, Westworld is already connecting with an audience. Between its first two airings and the views on HBO Go and HBO Now, the pilot had 3.3 million viewers. To put that number in perspective, Game of Thrones premiere reached 4.2 million viewers, whereas the short-lived Vinyl pilot only had 1.4 million viewers. Westworld is already off to a good start with HBO's subscribers, but will it see a rise in popularity? The next three episodes are every bit as entertaining and thought-provoking as the pilot, so it wouldn't be surprising if HBO's new series continues to pick up steam.
HBO released the opening title credits for the show. Ramin Djawadi (Game of Thrones) composed the music for the opening credits sequence, which sets the stage well for the series. The song ends on a sinister note that's just right for Westworld:
Here's the official synopsis:
The one-hour drama series WESTWORLD (ten episodes) is a dark odyssey about the dawn of artificial consciousness and the evolution of sin. Set at the intersection of the near future and the reimagined past, it explores a world in which every human appetite, no matter how noble or depraved, can be indulged. The cast includes Anthony Hopkins, Ed Harris, Evan Rachel Wood, James Marsden, Thandie Newton, Jeffrey Wright, Tessa Thompson, Sidse Babett Knudsen, Jimmi Simpson, Rodrigo Santoro, Shannon Woodward, Ingrid Bolsø Berdal, Ben Barnes, Simon Quarterman, Angela Sarafyan, Luke Hemsworth and Clifton Collins, Jr. Inspired by the motion picture "Westworld," written and directed by Michael Crichton. Production companies, Bad Robot Productions, Jerry Weintraub Productions and Kilter Films in association with Warner Bros. Television. Executive producer/writer/director, Jonathan Nolan; executive producer/writer, Lisa Joy; executive producers, J.J. Abrams, Jerry Weintraub, Bryan Burk.
Westworld airs Sundays at 9 PM on HBO.