Funny 'Doctor Strange' TV Spot: The Cloak Of Levitation Has A Mind Of Its Own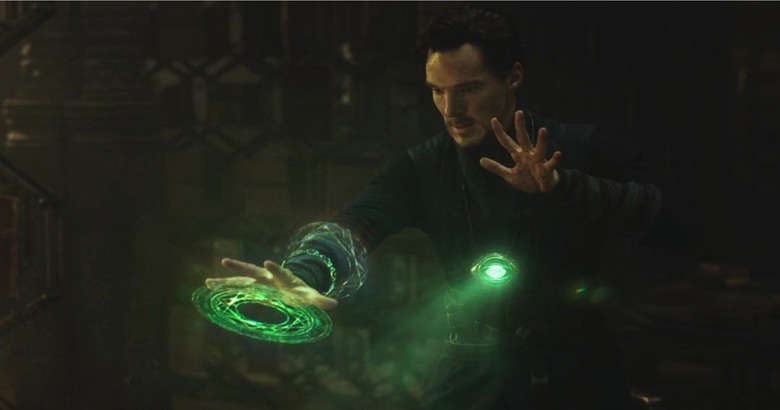 Despite Edna Mode's best efforts, capes remain a staple of superhero costuming, popular with everyone from Batman to Thor. Marvel's newest leading man, Doctor Strange (Benedict Cumberbatch) sports one as well. But Strange's is no mere fashion statement. It's a mystical artifact known as the Cloak of Levitation, and as evidenced in a funny new Doctor Strange TV spot, it's kind of got a mind of its own. Watch it below. 
Poor Strange. Being a newly minted superhero looks tough enough without the added hindrance of a cape that just won't stay put. Then again, the Cloak of Levitation gives Strange the ability to fly, so it's probably worth dealing with that tricky collar. Plus, from a fan perspective, it's nice to see a touch of humor in the Doctor Strange marketing, since most of the trailers and promos so far have been fairly serious. I don't think anyone was expecting Doctor Strange to be as grim as, say, Batman v Superman, but it wouldn't feel like a proper Marvel movie without some well-placed jokes.
Doctor Strange arrives November 4.
From Marvel Studios comes "Doctor Strange," the story of world-famous neurosurgeon Dr. Stephen Strange whose life changes forever after a horrific car accident robs him of the use of his hands. When traditional medicine fails him, he is forced to look for healing, and hope, in an unlikely place—a mysterious enclave known as Kamar-Taj. He quickly learns that this is not just a center for healing but also the front line of a battle against unseen dark forces bent on destroying our reality. Before long Strange—armed with newly acquired magical powers—is forced to choose whether to return to his life of fortune and status or leave it all behind to defend the world as the most powerful sorcerer in existence.
"Doctor Strange" stars Benedict Cumberbatch, Chiwetel Ejiofor, Rachel McAdams, Benedict Wong, Michael Stuhlbarg, Benjamin Bratt and Scott Adkins, with Mads Mikkelsen and Tilda Swinton. Scott Derrickson is directing with Kevin Feige producing. Louis D'Esposito, Stephen Broussard, Victoria Alonso, Charles Newirth and Stan Lee serve as executive producers. Jon Spaihts and Scott Derrickson & C. Robert Cargill wrote the screenplay. Join Strange on his dangerous, mystifying and totally mind-bending journey when Marvel Studios' "Doctor Strange" opens in U.S. theaters on November 4, 2016.