'Personal Shopper' Trailer: Kristen Stewart Buys Clothes For Celebrities & Talks To The Dead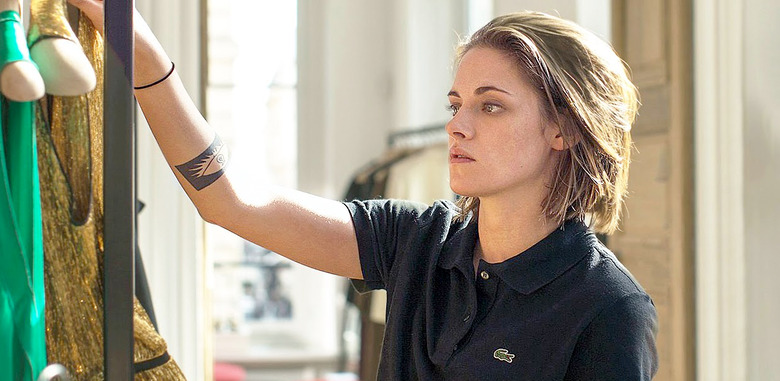 Since taking on the Twilight franchise, Kristen Stewart has spent her career taking on a wide variety of films in the indie world. Her roles in recent years include the prisoner of war drama Camp X-Ray, Woody Allen's most recent film Cafe Society, the action comedy American Ultra, the powerful family drama Still Alice, and Olivier Assayas' praised Clouds of Sils Maria. Now she's back with the latter filmmaker for a haunting thriller.
Personal Shopper played at the Cannes Film Festival earlier this year, and now the acclaimed film is coming to limited theaters next spring. Having known very little about the film, even after its premiere at Cannes, I must say that the first Personal Shopper trailer that debuted online recently teases an enticing supernatural tale.
The trailer features plenty of praise for Kristen Stewart's performance (who became the first American actress to win a Cesar in Assayas' Clouds of Sils Maria), not to mention throwing around the term Hitchcockian as a selling point. We only get a taste of the story that features Stewart hoping to reconnect with her deceased twin brother, but it seems like her desire to reach out to him in the spiritual world may have some horrific consequences.
However, not everyone loved the film as Todd McCarthy's review of the movie at The Hollywood Reporter said:
"A sort-of ghost story about a young American in Paris who half-believes she's in contact with her late twin brother, this aggravatingly empty would-be suspense piece puts all its trust in its star to save the day, but even this compulsively watchable performer can't elevate such a vapid, undeveloped screenplay."
As someone who finds Kristen Stewart's work to be hit or miss, this is the first time I've been enticed by a trailer for a movie with her in the lead. And considering that some of her best work came from her collaboration with director Olivier Assayas, I'm hoping this turns out to be one of her better performances.
If you want to see more, watch the previous trailer for Cannes right here.
Olivier Assayas, the internationally-acclaimed director of Clouds of Sils Maria and Summer Hours, returns with this ethereal and mysterious ghost story starring Kristen Stewart as a high-fashion personal shopper to the stars who is also a spiritual medium. Grieving the recent death of her twin brother, she haunts his Paris home, determined to make contact with him.
Personal Shopper hits limited theaters on March 10, 2017.