HBO Wants 'Game Of Thrones' Spinoff: "It's About Finding The Right Take"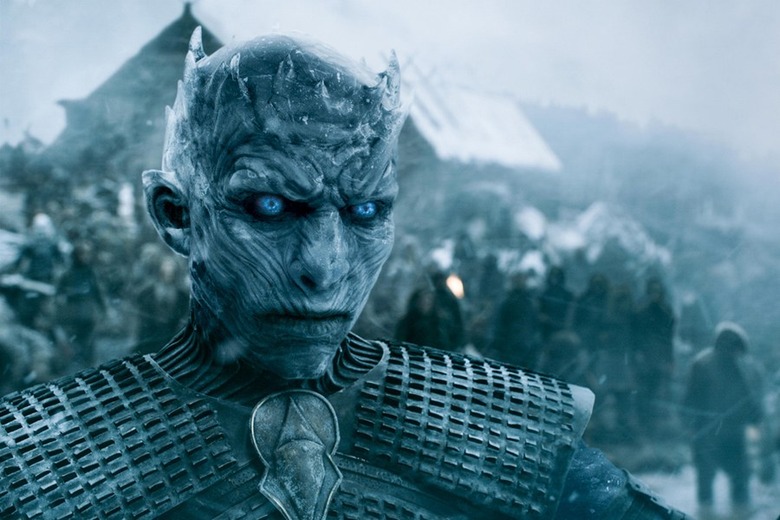 We've got just two seasons left of Game of Thrones, with the eighth and final season set to air in 2018. But don't assume that'll be the last we see of Westeros. The network has previously floated the possibility of a Game of Thrones spinoff, and HBO programming president Casey Bloys says the idea is still under consideration. It's just about finding the "right take." 
Game of Thrones has been a massive success for HBO on just about every level. It's been showered in critical acclaim and permeated popular culture. Ratings have increased each season, peaking with the most recent finale. And just a few weeks ago it set the all-time record for most Emmy wins of any scripted series. In short, it's no wonder HBO wants to keep the Game of Thrones franchise going as long as possible.
But Game of Thrones is also telling a single story, and that means the show has to come to a definitive end eventually — much to HBO's regret. "In a perfect world, Game of Thrones would keep going and we wouldn't have to deal with any of this," Bloys told The Hollywood Reporter. But he sees an opportunity to keep the franchise going with a spinoff. "There are so many properties and areas to go to," he said. "For us, it's about finding the right take with the right writer."
Bloys clarified that HBO is not actively developing any further Game of Thrones series at the moment. "Not yet," he said. But it sounds like they've at least started to toss some ideas around. "There are things that sound interesting, but at this point, we have no writers assigned or anything like that."
For his part, Game of Thrones author George R.R. Martin seems open to the idea of a spinoff, though he's stopped short of confirming anything.
I do have thousands of pages of fake history of everything that led up to Game of Thrones. There's a wealth of material there, and I'm still writing more, but at the moment, we still have this show to finish, and I still have two books to finish. So, that's all speculation.
As for who would write this (still theoretical) spinoff, Game of Thrones showrunners D.B. Weiss and David Benioff have already ruled themselves out. "I'm sure there will be other series set in Westeros, but for us this is it," said Benioff. Bloys, however, hopes they won't leave the franchise entirely. "I would not expect them to do it, because they're going to need to decompress for a good amount of time," he said, "but it would certainly be nice to have their involvement in some way. At what level? I have no idea."