New 'Fast 8' Image Reveals When The First Trailer Will Arrive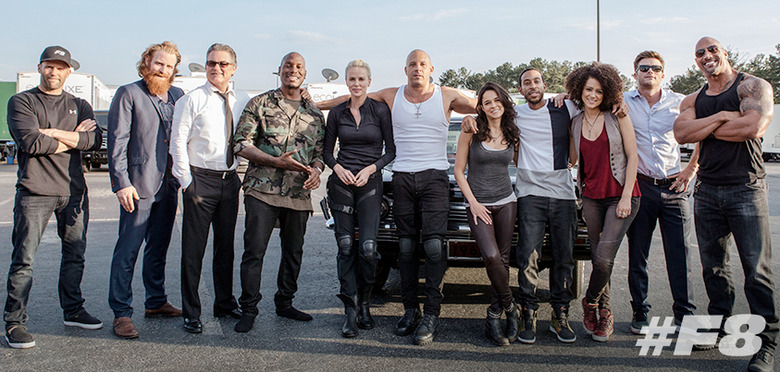 Back in August, production wrapped on Fast 8, the next sequel in the surprisingly long-running Fast & Furious franchise. The official page for the film series announced the end of production and teased the arrival of the first trailer in December. Now Vin Diesel has taken to his Facebook page with a more specific update featuring an image of himself with a sequel and an exact date for the trailer's release.
Find out the Fast 8 trailer release date after the jump.
Here's the photo that Vin Diesel posted to Facebook: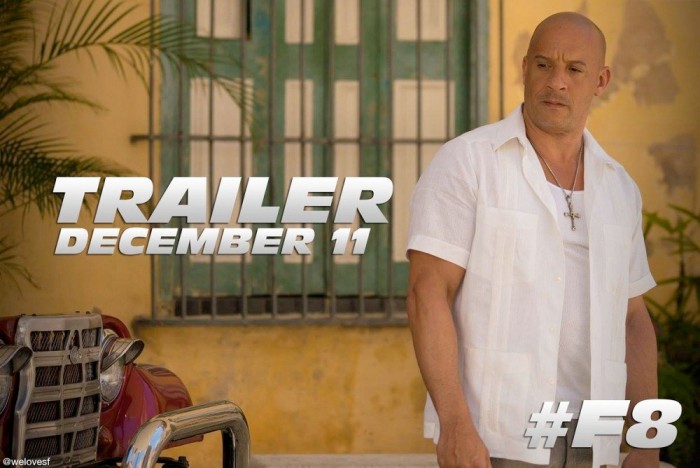 Funnily enough, Vin Diesel actually made this announcement a few days ago on #TorrettoTuesday where he said, "The trailer for F8 is going to blow your mind... New York City December 11th. You will see why there was tension, you will understand the intensity." This appears to be a reference to the feud that erupted between Diesel and co-star Dwayne Johnson, though there was a rumor circulating that it was just a publicity stunt for WrestleMania. But maybe Diesel and Johnson's characters end up at odds again somehow in the sequel?
We'll learn what all this tension talk is about when the first trailer arrives on December 11th. Presumably we'll see the trailer in theaters later that month too, but with which movie? More than likely it won't be attached to Universal's release of Sing! that month, since Fast 8 isn't really a kids movie. The most viable options are Rogue One: A Star Wars Story, Assassin's Creed or Passengers. All seem like the most viable blockbusters for the trailer to hit their desired audience, and it just might end up being on all of them.
This time the latest Fast & Furious sequel is directed by F. Gary Gray (Straight Outta Compton, Law Abiding Citizen) with a cast that includes the usual crew of Michelle Rodriguez, Tyrese Gibson, Chris "Ludacris" Bridges and Dwayne Johnson. In addition, Natalie Emmanuel is returning from Furious 7 along with Jason Statham and Kurt Russell. Newcomers to the cast include Charlize Theron, Scott Eastwood, Kristofer Hivju and Helen Mirren.
The sequel will take us to previously uncharted territory for the Dominic Torretto and his crew with locations including Cuba, New York City and Iceland. Surely they'll be creating plenty of destruction and chaos in all of these locations, and we can't wait to see how ridiculous the action gets this time around.
Fast 8 hits theaters on April 14, 2017.