Zack Snyder Teases Deathstroke In 'Justice League' Set Photo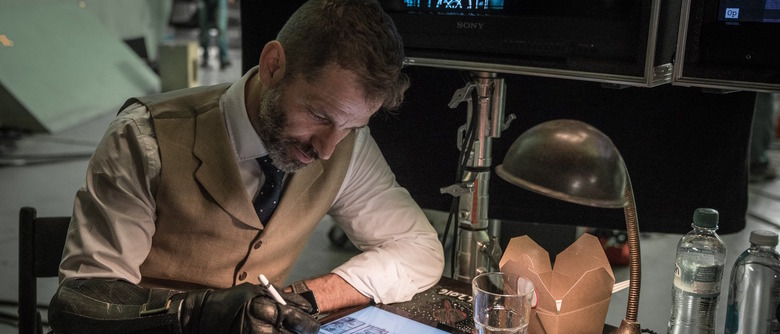 A few weeks ago, Ben Affleck posted a brief video revealing that Deathstroke would be making his way to the DC Extended Universe. Shortly afterward, Geoff Johns confirmed that Joe Manganiello had been cast in the role for Affleck's Batman solo movie, which is expected out around 2018 or 2019. But it looks like we might get to meet the villain a little bit earlier than that.
Director Zack Snyder has posted a behind-the-scenes photo from the set of next year's Justice League, which doesn't look like much of anything at first glance but upon closer examination seems to suggest Deathstroke will appear in that movie. 
Here's the original photo posted by Snyder:
#JusticeLeague #Cosplay pic.twitter.com/JwzoevN2HI

— Zack Snyder (@ZackSnyder) September 29, 2016
Why is Snyder wearing a Bat-gauntlet to fiddle around on his tablet? Well, why not? Don't pretend you wouldn't do the exact same thing in his situation.
But the photo gets more interesting when you zoom in on what he's looking at. @TheDCEU used Photoshop magic to get a closer look.
.@ZackSnyder posts new behind-the-scenes pic. And with a li'l bit of photoshop and enhancements, appear to be Deathstroke on the storyboard. pic.twitter.com/XsG1kzYZ6d

— DC Extended Universe (@TheDCEU) September 29, 2016
Yup, it looks like a Justice League storyboard featuring Deathstroke. In the comics, Deathstroke is the alter ego of mercenary and assassin Slade Wilson. Thanks to an experimental serum, he has enhanced speed, stamina, endurance, and reflexes as well as an accelerated healing factor. On top of all that, he boasts extensive martial arts and combat training and a brilliant tactical mind. Justice League will be the character's first time appearing in a live-action movie, though he has previously appeared in shows like Arrow and Smallville.
It's a little tougher to puzzle out whom Deathstroke is talking to, since the image doesn't offer a good look at their face. But their apparent baldness could point to Lex Luthor. We already know Jesse Eisenberg is set to return for Justice League, after all.
Elsewhere on Snyder's desk, you can also make out an Om symbol and a Charles Bukowski quote. Perhaps that means Justice League will see Cyborg take up yoga and Aquaman start a book club; more likely, they're just bits of decoration or inspiration for Snyder.
Justice League hits theaters November 17, 2017. The film stars Ben Affleck as Batman, Gal Gadot as Wonder Woman, Henry Cavill as Superman, Jason Momoa as Aquaman, Ezra Miller as the Flash, and Ray Fisher as Cyborg, plus Eisenberg, Amy Adams as Lois Lane, Jeremy Irons as Alfred Pennyworth, J.K. Simmons as Commissioner Gordon, Willem Dafoe as Nuidis Vulko, Amber Heard as Mera, and, we now know, Joe Manganiello as Deathstroke.
Fueled by his restored faith in humanity and inspired by Superman's selfless act, Bruce Wayne enlists the help of his newfound ally, Diana Prince, to face an even greater enemy. Together, Batman and Wonder Woman work quickly to find and recruit a team of metahumans to stand against this newly awakened threat. But despite the formation of this unprecedented league of heroes — Batman, Wonder Woman, Aquaman, Cyborg and The Flash -— it may already be too late to save the planet from an assault of catastrophic proportions.