'What We Do In The Shadows' Gets A TV Series Spin-Off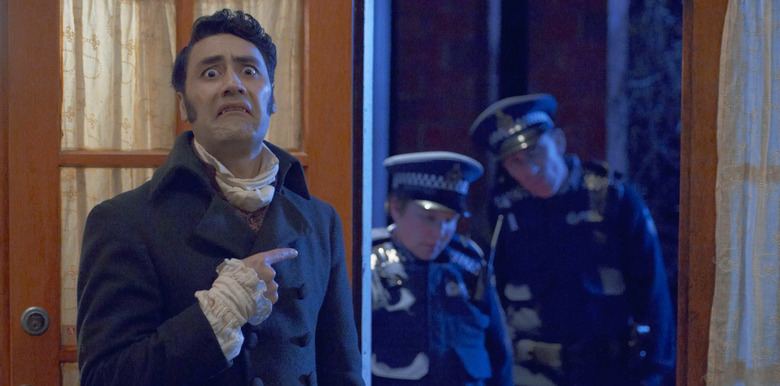 Over a year ago, there were rumblings of not only a What We Do In The Shadows sequel, but also a TV series spin-off. Since then, we've learned that the feature film sequel will be called We're Wolves, following Rhys Darby, Stuart Rutherford and the rest of the werewolves we see in the first movie. Just recently we heard the sequel is probably at least a couple years away, but we haven't gotten on update on the spin-off series. At the time, co-director, co-writer and co-star Jemaine Clement thought gettng the series off the ground would be a long shot, but today we have good news on the What We Do In The Shadows TV series front.
Last year, Jemaine Clement revealed that he and fellow co-director, co-writer, co-star Taika Waititi (who is busy at work on Thor: Ragnarok right now) had pitched a show in New Zealand following the two cops Karen and Mike (played by Karen O'Leary and Mike Minogue) seen in the movie. However, at the time Clement wasn't optimistic about the show getting made, explaining, "We've already been told before we even handed it in that there's no money for comedy."
Well, it sounds like some money was scrounged up because Radio New Zealand reports New Zealand On Air (NZOA) has decided to fund the series with $1.4 million, and it has a six episode order to air on TVNZ 2 down in New Zealand.
The show is called Paranormal Event Response Unit, and it will follow Mike and Karen as they protect people "from supernatural phenomena in their own police reality series." The two cops treat their encounters with vampires and werewolves rather nonchalantly in What We Do In The Shadows, and seeing the other duties they have as part of a unit meant to specifically deal with these matters has the potential to be extremely funny.
NZOA's chief executive Jane Wrightson said, "We are delighted that Jemaine Clement and Taika Waititi are bringing their talents to smaller screens in Paranormal Event Response Unit." Of course, this isn't the first time Clement and Waititi have taken to television since they collaborated on Flight of the Conchords together several times.
The question is whether we'll actually get to see this series in the United States or not. Since this show is specifically funded by NZOA and is slated to air in the country, there's no guarantee it will be imported to the United States. But considering the popularity of What We Do In The Shadows, it's bound to be picked up for distribution over here.