Watch: Luke Cage Opening Title Sequence Introduces Us To Marvel's Harlem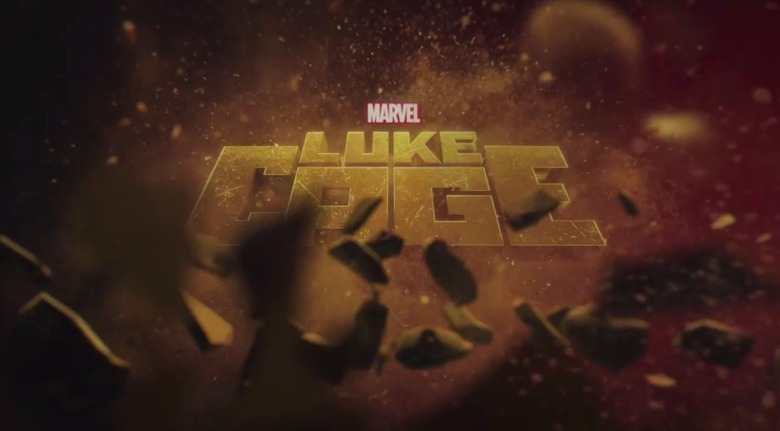 All thirteen episode of Marvel's Netflix television series Luke Cage will premiere Friday, September 30th, 2016 on the online streaming service. But you don't have to wait until midnight to get a glimpse of Luke Cage's opening credit sequence. Hit the jump now to watch the Luke Cage opening title sequence and see how it compares to the previous Netflix Marvel shows like Daredevil and Jessica Jones.
Luke Cage Opening Title Sequence
Justice may be blind, but tomorrow it becomes unbreakable. #LukeCage pic.twitter.com/srR5H7FskR
— Luke Cage (@LukeCage) September 29, 2016
As you can see, the Luke Cage title sequence follows the same colorful montage design established by Daredevil and Jessica Jones. The title sequence introduces us to Luke Cage's neighborhood of Harlem, and the music sets up a different type of score from the previous installments. The show's soundtrack is one of the most praised aspects of the new series. If you haven't yet, check out the first Luke Cage reviews. Many have said that the show is definitely a throwback to 1970s blaxploitation films and this opening title sequence establishes a different attitude. And yes, we get teases of the powerful titular hero, leading to the robust punch that reveals the series logo.
I must admit, I wasn't really a fan of the Luke Cage character in Jessica Jones and have never read the comic book series, but the early reviews are saying all the right things, and I'm very interested to see if the series is for me.
For comparison purposes, check out the Daredevil and Jessica Jones opening title sequences below:
Here's the official plot description for Luke Cage:
After a sabotaged experiment leaves him with super strength and unbreakable skin, Luke Cage (Mike Colter) becomes a fugitive trying to rebuild his life in modern day Harlem, New York City. But he is soon pulled out of the shadows and must fight a battle for the heart of his city – forcing him to confront a past he had tried to bury.
Mike Colter reprises his role of Luke Cage, Mahershala Ali plays the villain Cornell "Cottonmouth" Stokes, Alfre Woodard plays a local politician Mariah Dillard, Simone Missick plays Misty Knight, Theo Rossi plays Shades, Frank Whaley plays Rafael Scarfe, and Rosario Dawson reprises her role of Claire Temple after appearing in both Daredevil and Jessica Jones. The show is part of the lead up to Netflix's Avengers-style team-up series The Defenders, which will feature Luke Cage alongside Daredevil, Jessica Jones, Iron Fist and Punisher.
Luke Cage premieres on Netflix on September 30th, 2016.