What's Going On With The 'Portal' & 'Half-Life' Movies At Bad Robot?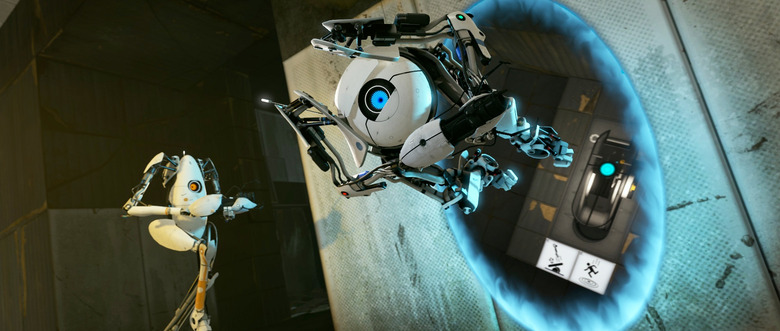 It's been over three and a half years since filmmaker J.J. Abrams and video game producer Gabe Newell announced a forthcoming collaboration between their Bad Robot and Valve companies. While their conversations hinted at some kind of larger partnership, the most immediate excitement came from their discussions of developing film adaptations of Valve's video game franchises Portal and Half-Life. But we haven't heard anything regarding progress on either of those titles. So what's going on?
J.J. Abrams is currently making the rounds promoting his upcoming series Westworld on HBO, and that means he's getting questions about the other projects that may be kicking around over at Bad Robot. thankfully, someone asked about the development of both the Portal and Half-Life movies, and it sounds like the former is a little further along.
IGN caught up with Abrams on the red carpet for the premiere of Westworld where he confirmed that both Half-Life and Portal movies are "still very much in development." That's not much different from what Abrams said back in March this year, but then he offered this extra little nugget regarding the Portal movie:
We have a meeting coming up next week with Valve, we're very active, I'm hoping that there will be a Portal announcement fairly soon.
There's no telling what Abrams considers to be "fairly soon," but since an upcoming meeting with Valve is on the schedule, that shows us it's in active development right now. As for what that announcement might be, it could be a release date, a director attached to the project, or maybe just a studio getting involved with the property. Abrams added this regarding their approach to each property:
We are having some really interesting discussions with writers, many of whom...once you said you're doing a movie or show about a specific thing that is a known quantity you start to find people who are rabid about these things. As someone who loves playing Half Life and Portal, what's the movie of this, it's incredible when you talk to someone who just 'gets' it, it's like, oh my god, it's really the seed for this incredible tree you're growing.
The fact that Half-Life and Portal movies are even getting made is kind of a small miracle to begin with since Gabe Newell once said that if there were ever film adaptations of their games, they would be done in-house. But he and Abrams must have found a comfort level with each other to be able to collaborate on these projects.
Both Half-Life and Portal have the potential to become very cool film franchises. In fact, we've already seen how awesome the latter can be in film form thanks to friend of the site Dan Trachtenberg's short film Portal: No Escape. Coincidentally enough, he went to work on 10 Cloverfield Lane at Bad Robot (one of the best movies of the year, in my opinion), so maybe he'll end up behind the camera for the feature length Portal movie.