New 'Rules Don't Apply' Trailer: Warren Beatty's Long-Awaited Return Is Almost Here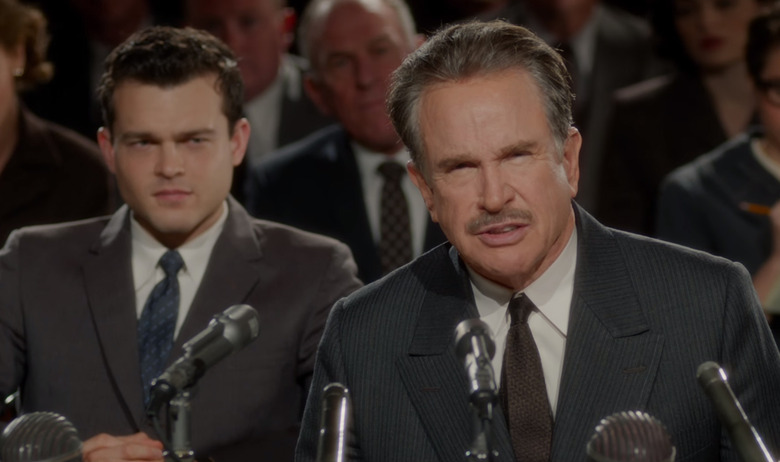 Rules Don't Apply brings Warren Beatty back to us. Beatty, who hasn't directed since 1998's hilarious Bulworth, has returned with a movie that defines "longtime passion project." Ever since seeing Howard Hughes in-person in 1973, Beatty has wanted to make a film about the man. He finally did it with Rules Don't Apply, although it's less a biopic, more of a romance between Lily Collins and Alden Ehrenreich's characters.
Below, watch the new Rules Don't Apply trailer.
The 1958-set film is about aspiring actress Marla Mabrey (Collins) and her relationship with her engaged driver Frank Forbes (Ehrenreich). They're both employed by Howard Hughes (Beatty), and the troubled billionaire forbids relationships between drivers and actresses. The two deeply religious youngsters face all sorts of new challenges as they work for Mr. Hughes. Rules Don't Apply co-stars Alec Baldwin, Annette Bening, Matthew Broderick, Dabney Coleman, Candice Bergen, Haley Bennett, Steve Coogan, Taissa Farmiga, Ed Harris, Oliver Platt, and Martin Sheen.
Here's the new trailer for Rules Don't Apply, which remains one of our most anticipated movies of the year:
This trailer is slightly more focused than the previous one we saw, which was overlong and a little messy. The comedy is Marla Mabrey and Frank Forbes' story, which this trailer places more emphasis on. Obviously, Beatty has a significant role to play as Hughes, but he's not the focus of it. Beatty, who looks like good fun as Hughes, started shooting the film in early 2014. As the director tends to do, he took his time in the editing room. Rules Don't Apply will finally debut in November at the AFI Film Festival. Until then, fingers crossed we'll hear more from the typically press-shy Beatty, who participated in a reedit Q & A this morning to promote his upcoming picture. Here are two expectedly short but amusing responses from Beatty:

Beatty's fans might also be pleased to learn he intends on one day writing an autobiography.
Here's the official synopsis for Rules Don't Apply:
It's Hollywood, 1958. Small town beauty queen and devout Baptist virgin Marla Mabrey (Lily Collins), under contract to the infamous Howard Hughes (Warren Beatty), arrives in Los Angeles. At the airport, she meets her driver Frank Forbes (Alden Ehrenreich), who is engaged to be married to his 7th grade sweetheart and is a deeply religious Methodist. Their instant attraction not only puts their religious convictions to the test, but also defies Hughes' #1 rule: no employee is allowed to have any relationship whatsoever with a contract actress. Hughes' behavior intersects with Marla and Frank in very separate and unexpected ways, and as they are drawn deeper into his bizarre world, their values are challenged and their lives are changed.
Rules Don't Apply opens in theaters on November 11th.