'Jack Reacher: Never Go Back' IMAX Trailer: Tom Cruise Is Excited To Kick Ass Again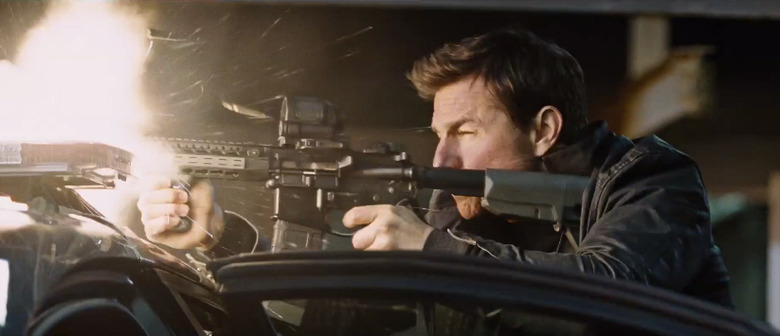 Tom Cruise is back in action this fall with Jack Reacher: Never Go Back. The star of the Mission: Impossible franchise launched another action movie series in 2012 with the first movie based on Lee Child's recurring character who has been at the center of over 100 million books sold worldwide. It was a simple action flick with a lead character who feels like a throwback to movies from the late '80s and early '90s. That didn't sit well with some audiences, but it worked for me, so I'm happy to see Cruise cracking skulls and kicking ass in the new IMAX trailer teasing the sequel's release.
Here's the new Jack Reacher Never Go Back trailer from IMAX:
The tough, no-questions-asked attitude of Jack Reacher obviously feels dated, but that's the idea. However, I will admit that while I like the line, "What you hear is excitement," it doesn't sound quite as intimidating as it should. By comparison, I think Keanu Reeves' delivery of "Yeah, I'm thinkin' I'm back," in John Wick works a lot better. Speaking of which, I wonder who would win in a fight between Jack Reacher and John Wick. Sadly, they're at two different studios, so we'll never find out, but that would be a fun face-off.
Anyway, I'm not sure that the Jack Reacher sequel will be able to bring the goods so that it's as satisfying as the first movie, especially without Werner Herzog involved as the villain, but hopefully it's a fun distraction on the big screen. If you need to see more, watch the previous trailer right here.
Jack Reacher (Tom Cruise) returns with his particular brand of justice in the highly anticipated sequel Jack Reacher: Never Go Back. Major Susan Turner (Cobie Smulders) is the Army Major who heads Reacher's old investigative unit. She is arrested for Treason and knowing that she is innocent, Reacher must break her out of prison and uncover the truth behind a major government conspiracy in order to clear their names and save their lives. On the run as fugitives from the law, Reacher uncovers a potential secret from his past that could change his life forever.
Jack Reacher: Never Go Back hits theaters, including IMAX screens, on October 21.