'The Space Between Us' Trailer: Asa Butterfield Is An Actual Martian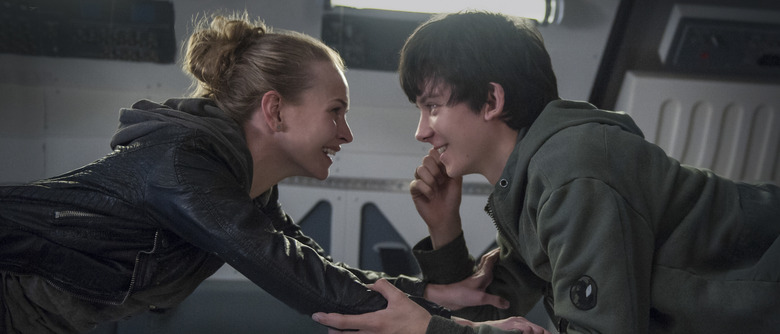 Asa Butterfield plays a Martian in The Space Between Us, but not the kind with slimy green skin and giant jet-black eyes. He's a human, just one that happens to have been born on Mars. His mother was an astronaut, you see, and didn't realize she was even pregnant until after she'd already set out as part of a mission to colonize the red planet. So Gardner becomes the first baby born there, and grows up in a tiny settlement consisting of just 15 people.
Gardner does have one lifeline to Earth, though — an online friend named Tulsa (Britt Robertson), who lives in Colorado. He sets out to visit her on Earth, and enlists her in a quest to learn more about where he came from. It's part The Martian and part John Green, and if you're in the mood for an earnest coming-of-age romance with a bit of sci-fi flair, it just might hit the spot.
While the first trailer started out looking like a space exploration adventure, the second trailer leans into the teen drama right away. It all looks rather sappy, but that's not necessarily a bad thing. The space angle adds a unique twist to the usual coming-of-age tropes, with Mars standing in for the ultimate small town. The whole metaphor about his heart being too fragile to handle the real world is more than a little heavy-handed, but I suppose it fits with the rest of the film. Between this and Passengers, this winter is going to be a good one for people who like a hefty dose of romance with their sci-fi (or maybe it's the other way around).
The Space Between Us opens December 16. It's directed by Peter Chesholm and also stars Gary Oldman, Carla Gugino, B.D. Wong, and Janet Montgomery.
In this interplanetary adventure, a space shuttle embarks on the first mission to colonize Mars, only to discover after takeoff that one of the astronauts is pregnant. Shortly after landing, she dies from complications while giving birth to the first human born on the red planet – never revealing who the father is. Thus begins the extraordinary life of Gardner Elliot – an inquisitive, highly intelligent boy who reaches the age of 16 having only met 14 people in his very unconventional upbringing.
While searching for clues about his father, and the home planet he's never known, Gardner begins an online friendship with a street smart girl in Colorado named Tulsa. When he finally gets a chance to go to Earth, he's eager to experience all of the wonders he could only read about on Mars – from the most simple to the extraordinary. But once his explorations begin, scientists discover that Gardner's organs can't withstand Earth's atmosphere.
Eager to find his father, Gardner escapes the team of scientists and joins with Tulsa on a race against time to unravel the mysteries of how he came to be, and where he belongs in the universe.