'Adventure Time' Is Ending In 2018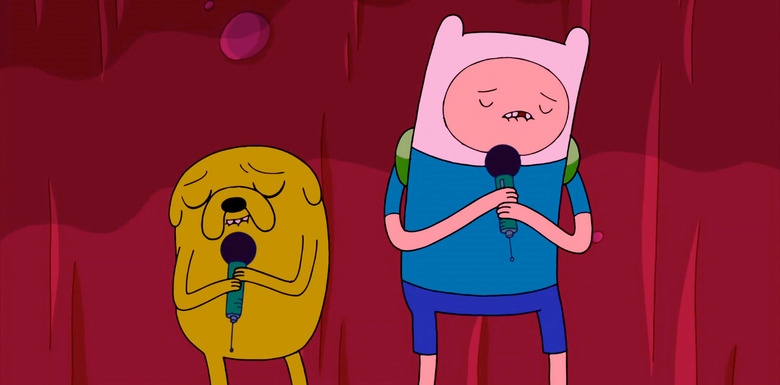 If you've been fond of grabbing your friends and going to distant lands with Jake the dog and Finn the human over the past six years, we have some bad but inevitable news. Cartoon Network has announced that Adventure Time will be ending after the ninth season of the animated series concludes in 2018.
The delightfully weird show has become a favorite among kids and adults alike, and it's easily one of the best animated series ever made. Unlike most animated shows geared towards kids, this otherworldly series featured characters who grew and changed over time, confronting other emotionally complex and equally peculiar characters.
In addition to the characters of Finn and Jake (voiced by Jeremy Shada and John DiMaggio), the Land of Ooo also includes Princess Bubblegum (Hynden Walch), the Ice King (Tom Kenny), and Marceline the Vampire Queen (Olivia Olson), Lumpy Space Princess (voiced by creator Pendleton Ward) and more. Sometimes Finn and Jake were even gender swapped to become Fiona and Cake. There were also guest stars such as Mark Hamill, Ron Perlman, Marc Maron and many more.
Thankfully, since this announcement of Adventure Time ending is coming in advance, the show will be able to have a hopefully satisfying end. Here's what Pendleton Ward had to say about the series coming to an end:
Adventure Time was a passion project for the people on the crew who poured their heart into the art and stories. We tried to put into every episode something genuine and telling from our lives, and make a show that was personal to us, and that had jokes too! I'm really happy that it connected with an audience for so long. It's a special thing, I think.
But the question is whether or not it will be left open-ended for a return to the Land of Ooo in the future. Maybe leaving it open-ended without any intention of returning is exactly how a series like Adventure Time should end, especially since it exists in a world with endless possibilities. After all, an Adventure Time movie was announced back in the spring of 2015, but we haven't heard anything about it since then.
The ninth and final season of Adventure Time is currently in production, though there's no release date set just yet. When all is said and done, fans will have 142 half-hours of the series to return to whenever they need it, and that's more than most shows get to give their fans.