'True Memoirs Of An International Assassin' Trailer: How Is Kevin James Mistaken For A Hitman?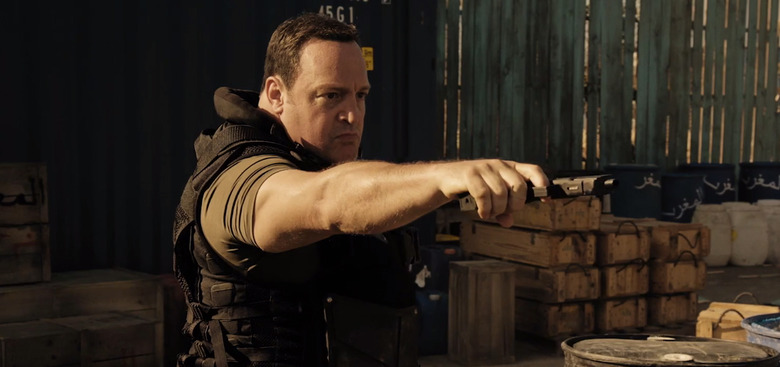 Since Adam Sandler has been making Netflix a little less tolerable with the presence of movies such as The Ridiculous 6 and The Do-Over, it only makes sense that his buddy Kevin James follows him over there too.
The comedian who co-starred with Adam Sandler in Pixels, Grown Ups and I Now Pronounce You Chuck & Larry heads out on his own again with a new action comedy called True Memoirs of an International Assassin. The movie finds Kevin James as an author who sees his novel about a skilled assassin published as a non-fiction memoir, which makes some really dangerous people think that he's a deadly hitman. Sounds pretty believable, right?
Watch the True Memoirs of an International Assassin trailer after the jump.
True Memoirs of an International Assassin Trailer
The film is cut from the same cloth as Three Amigos, Galaxy Quest and Tropic Thunder where a case of mistaken identity results in action and adventure. The only problem is that the quality of comedy in this particular film is nowhere near those three titles. At one point, the writers almost seem to be aware of this with the line, "Or is it so beyond stupid; it's brilliant?" The answer is a resounding no; it's not.
While I will say the part in the trailer regarding bringing a knife to a gun fight was a funny moment, it's played out over the top so that any merit of its cleverness is washed away. The only truly redeeming part in the movie is where we get to see Kevin James completely blown away by an RPG, and it's just as satisfying as you'd hope. If the trailer ended there, I would have been thrilled.
In addition to Kevin James bumbling his way through the movie, the film also stars Andy Garcia, Zulay Henao (Meet the Blacks), Maurice Compte (Narcos), Andrew Howard (Taken 3), Rob Riggle (22 Jump Street), Kelen Coleman (The McCarthy's), Leonard Earl Howze (Memphis Beat), Yul Vasquez (The Lottery) and Kim Coates (Sons of Anarchy).
Thankfully it appears that the rest of the fools who usually show up in movies like this have been sidelined. That seems to be because the action far outweighs the comedy, likely because Kick-Ass 2 director Jeff Wadlow is behind it instead of a full-fledged comedy director. He also wrote the script with Jeff Morris, who brought us the brilliant special Grumpy Cat's Worst Christmas Ever. At the very least, this looks infinitely better than Kevin James' new series Kevin Can Wait.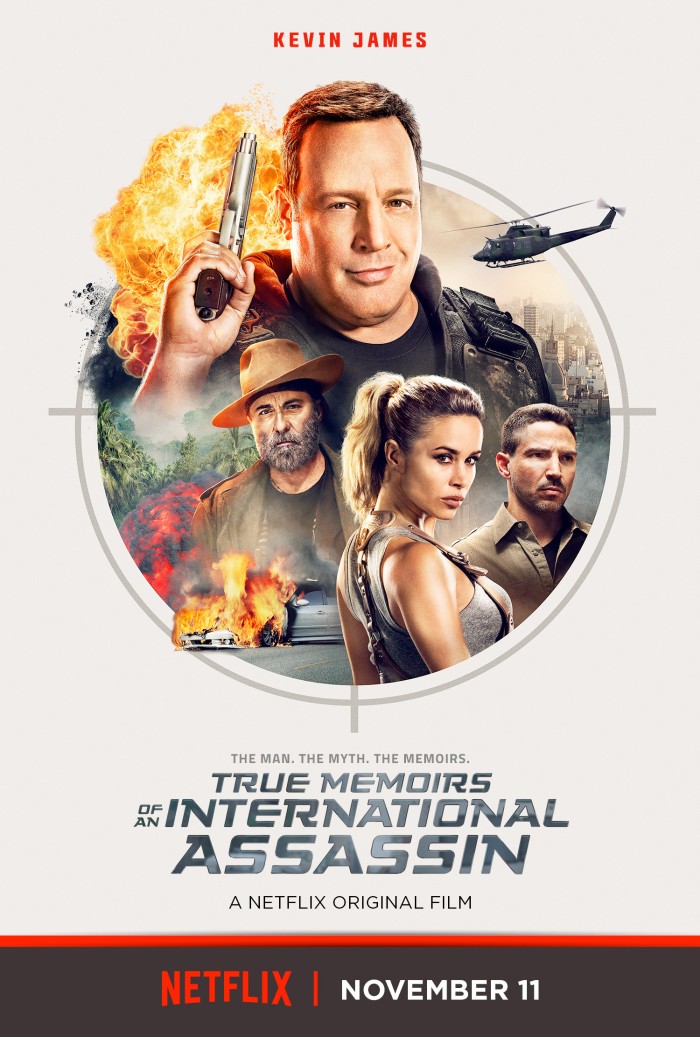 Kevin James is Sam Larson, a mild-mannered would-be author who gets mistaken for a killer-for-hire when his fictional novel about an international assassin is published as a true story. When the book is a huge success, he is suddenly kidnapped, taken out of the country, and forced into an assassination plot.
True Memoirs Of An International Assassin arrives on Netflix on November 11th.