Misty Knight Will Return In 'The Defenders', Confirms 'Luke Cage' Star Simone Missick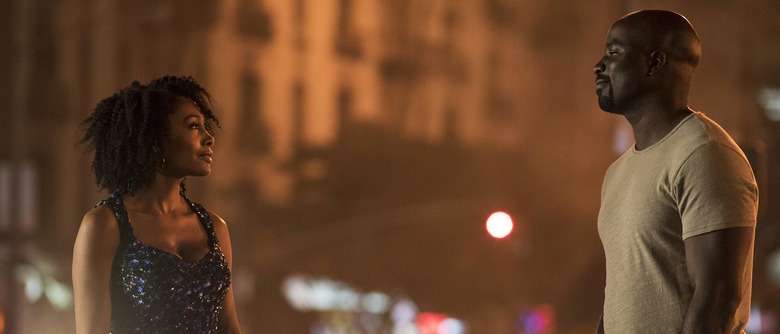 We're just hours away from the premiere of Luke Cage, which not only brings back Mike Colter as the bulletproof hero but introduces a whole raft of new characters to go along with him. One of those is Misty Knight, an NYPD cop played by Simone Missick. And it sounds like Netflix already has more big plans for her. Missick has confirmed she'll resurface in The Defenders, the 2017 Netflix miniseries that promises to bring together Luke Cage, Daredevil (Charlie Cox), Jessica Jones (Krysten Ritter), and Iron Fist (Finn Jones).
Missick spilled the beans in an interview with TheWrap. "I believe I'm safe to say that I will be on The Defenders," she said. "Spoiler alert!" She added, joking, "If I lose my job because of this interview, sorry! I was supposed to be on The Defenders, until I got fired."
We already know that in addition to the four core heroes, The Defenders will bring in supporting players from the various series. Daredevil's Elden Henson (Foggy Nelson) and Jessica Jones' Eka Darville (Malcolm Ducasse) have each said they'll return in The Defenders, and there's reason to believe Jessica Jones' Rachael Taylor (Trish Walker) will join them as well. Additionally, it looks extremely likely that Jon Bernthal's Punisher will put in an appearance.
In Luke Cage, Misty Knight is a police officer who hails from Harlem. She comes into Luke's orbit when she begins investigating reports of a man with special powers. In the comics, she's associated with both Luke Cage and Iron Fist (who are best friends) and sports a bionic arm created by Tony Stark. The paper-and-ink version of Misty also has her own partnership with Colleen Wing — who joins the Netflix Marvel universe next year in Iron Fist, where she'll be played by Jessica Henwick. Hm, do we sense spinoff potential?
Luke Cage hits Netflix September 30 at 12:01 AM Pacific.