'Wolf Of Wall Street' Screenwriter Joins Antoine Fuqua's 'Scarface' Remake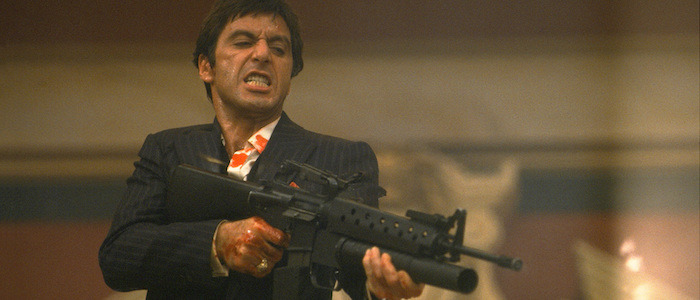 Academy Award-nominated screenwriter Terence Winter has signed on to re-write Training Day/Magnificent Seven director Antoine Fuqua's Scarface remake. Find out more about how Winter will help transform the Scarface remake screenplay, after the jump.
Variety has learned that Terence Winter has come on board to do a polish of Straight Outta Compton screenwriter Jonathan Herman's latest draft of the retelling. Winter was a writer and producer on The Sopranos, and the creator/showrunner of Boardwalk Empire, making him perfect for the mobster story. Winter is also not very busy these days as his HBO series Vinyl was canceled by HBO after only ten episodes. Winter also recently signed on to write the Andy Warhol biopic starring Jared Leto.
We've heard previously that the film will be a reimagining of the story told in both the 1932 and 1983 films. The new movie will be different from its predecessors in a number of ways, including being set in Los Angeles and will focus on a Mexican immigrant. The director has said that the story is "really interesting and very timely," dealing with issues of the American Dream being a rigged game.
"It's not really an even playing field, but the promise is that it is. The promise is that everyone gets a fair shot, but that's not always the case. So that's always relevant, and right now with what's happening in Mexico, which is where [the main character] comes from – he comes out of Mexico – that's relevant, especially when you've got people talking about putting up walls and other kinds of stuff. We're still dealing with immigration, we're still dealing with what would turn someone into Scarface."
The antihero of the new movie is the result of an already unstable guy being disenfranchised and disrespected by a system that hates him.  And not only is the story very topical but shows like Netflix's Narcos have found large audiences dealing with similar themes.
The original Scarface movies also centered on an immigrant making his way through the criminal underworld and cutting down anyone and everyone who underestimates him. The 1932 film used Al Capone as a template, with Paul Muni playing an Italian immigrant who builds his crime empire in Chicago. The 1983 film let Al Pacino cut loose as a Cuban immigrant who transforms himself from penniless crook into the lord of a cocaine empire.
Universal Pictures has not yet announced a release date for the Scarface re-do, but we assume with this polish production is gearing up to happen soon. The film could hit theaters as early as late 2017.
For those of you wanting to revisit Scarface, I recommend watching Fandor Keyframe's video essay on the American Dream in film, which Brian De Palma's 1993 movie: