Johnny Depp And Michelle Pfeiffer Eying Kenneth Branagh's 'Murder On The Orient Express' Remake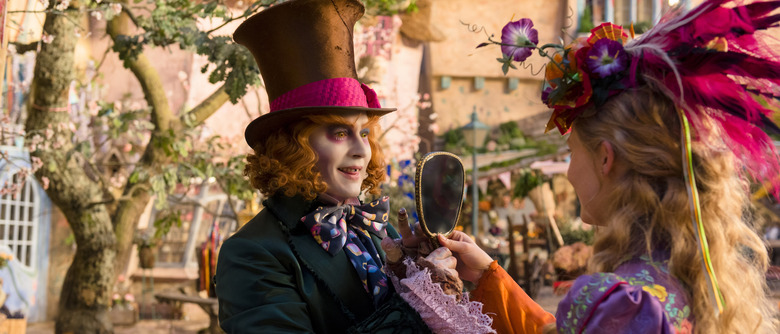 Besides its own director, no actors that we know of are officially attached to Kenneth Branagh's Murder on the Orient Express remake, based on Agatha Christie's novel of the same name. Over the summer Angelina Jolie began circling the role of widowed socialite Harriet Hubbard, but last month she passed on the part. The newest actors to enter the mix are Dark Shadows co-stars Johnny Depp and Michelle Pfeiffer.
Below, learn more about the potential Murder on the Orient Express cast.
The Hollywood Reporter learned that Johnny Depp and Michelle Pfeiffer are "names of interest" for the remake. Which roles they're being considered for in the thriller are unknown, and there are a few roles either of them could play in this ensemble film. Agatha Christie's story is an ensemble piece that revolves around a murder mystery. After a train gets caught in a massive snowstorm overnight, the next morning a murdered passenger is discovered. Investigating the murder is Detective Hercule Poirot (Branagh), who was played wonderfully by Albert Finney in Sidney Lumet's 1974 film.
Murder on the Orient Express isn't the only movie based on Agatha Christie's writing in the works. Ben Affleck is also directing a remake of Witness For The Prosecution, while Passengers director Morten Tyldum is tackling the And Then There Were None adaptation. THR's article is more about the resurgence of Christie's work on film; Depp and Pfeiffer being on the shortlist for Branagh's film was only briefly mentioned.
Why these new adaptations/remakes? Because, according to the CEO of Agatha Christie Limited, Hilary Strong, they'll introduce general moviegoers to Agatha Christie's stories:
One of the criticisms that I keep getting levied at me is that [the previous film adaptations] were so amazing. "How can you remake Murder on the Orient Express?" They're iconic films, but they are of their time, and there is a new cinema audience that won't watch films that were made in 1957 or 1974, and we want them to hear her stories.
That's a truthful, if somewhat unfortunate, reason to remake Murder on the Orient Express. Kenneth Branagh's motivation is a little more inspiring:
She has a real sense of psychological insight and perception. I think audiences are looking for and maybe ready to let that part of her work emerge a little more deeply — and differently from the sort of 'period drama' that some might associate with the work.
It was also mentioned Branagh's Murder on the Orient Express will have a sense of humor. Lumet's adaptation is quite funny at times, so it's good to learn Branagh's remake will follow suit in that regard. Considering Branagh typically fares well with thrillers – Dead Again remains great fun — this remake is currently in good hands. We'll likely know soon which actors sign up for the movie since it is only around a year away, but based on all A-list names already linked to this project, we should, at the very least, expect a star-heavy cast with Murder on the Orient Express.
Murder on the Orient Express opens in theaters on November 22nd, 2017.