'Jumanji': Dwayne Johnson Shares First Look At Nick Jonas' Character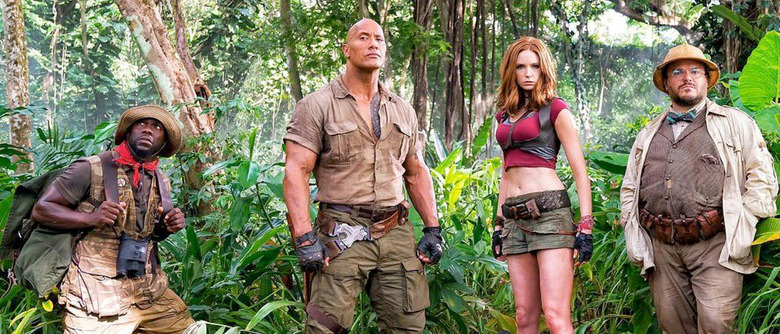 For a game that has the potential to trap players for decades and wreak jungle-themed havoc on unsuspecting towns, Jumanji sure is proving popular among the Hollywood set. Recently we got our first look at Dwayne Johnson, Karen Gillan, Jack Black, and Kevin Hart on set, and today Johnson has shared yet another set photo showing off one of the movie's other stars, Nick Jonas.
Johnson unveiled the first Jumanji Nick Jonas photo on his Instagram feed, which is really the best place to look for updates on any of Johnson's upcoming projects. In his own Instagram post about the photo, Jonas gushed that he was "so pumped" to work with the "incredible" cast and crew.
Officially welcoming my guy @NickJonas to #Jumanji. Great dude, great positive energy and very talented. He's gonna kill this role like I kill things with my bare hands. The jungle awaits. The adventure continues. And ironically the one who sings the most on set is Jack Black ????. #OnLocation #Hawaii #WelcomeToTheFamilyNick #Jumanji ????
A photo posted by therock (@therock) on
Jumanji centers around four teens, played by Alex Wolff, Madison Iseman, Ser'Darius Blain, and Morgan Turner, who get sucked into a video game version of the infamous board game. Johnson, Hart, Black, and Gillan represent the avatars of the four kids, who are on a mission to find a jewel. It's not clear whom Jonas is playing, but based on his costume (and the fact that he's hanging out with Johnson on the jungle set), it seems likely he's one of the characters in the game, rather than one of the people out in the real world.
Jonas may still be best known as one-third of the Jonas Brothers, but in recent years he's come into his own as a TV and movie actor. He can currently be seen in Goat, the fraternity hazing drama that debuted at Sundance earlier this year, as well as the MMA drama Kingdom.
Jumanji is billed as a continuation of the 1995 movie starring Robin Williams, rather than a reboot, though it remains to be seen how exactly they will be linked. Jake Kasdan (Bad Teacher) directs the new film, and Rhys Darby co-stars as Nigel. Jumanji hits theaters July 28, 2017.