The Crown Trailer: Netflix's Epic Series Provides A Look Behind The Curtain At Queen Elizabeth II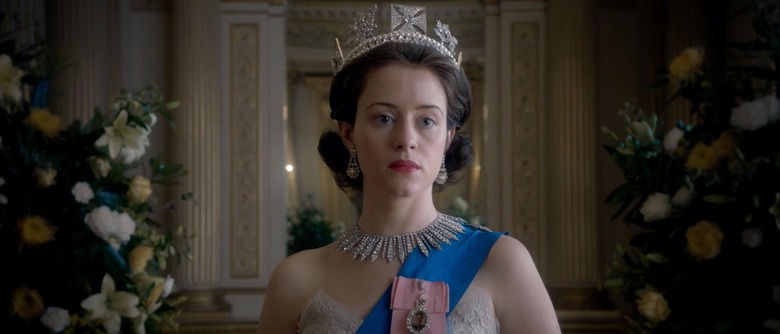 It seems like every week now, Netflix releases a new trailer for a new original television series that seems too good to be true. The level of talent and material they are producing is just unmatched, even by HBO at this point.
Today's trailer is for The Crown, a new original series which reunites Academy Award-nominated writer Peter Morgan (The Queen, Frost/Nixon) with three-time Oscar-nominated director Stephen Daldry (Billy Elliot, The Hours) and producer Andy Harries (The Queen). It's an adaptation of the award-winning play The Audience, which tells the behind the scenes story of Queen Elizabeth II's early reign, "revealing the personal intrigues, romances, and political rivalries behind the great events that shaped the second half of the 20th Century."
Watch The Crown trailer after the jump and leave your thoughts in the comments below.
The Crown Trailer
I must admit, I've never really been one to be interested in English royalty, and have never quite understood why so many people are obsessed with the crown. I'm also not someone who regularly enjoys English period dramas, but the talent involved with this project has my interest for sure. I guess I'm a little curious to get a behind the scenes peek into this world of royalty and see if I can get sucked in. I'm less excited about the personal life of Queen Elizabeth II, but more interested to see her struggle to reconcile her public role in the "shifting the sands of post-war politics."
As for the cast of this series, The Crown stars Claire Foy as Queen Elizabeth II, Matt Smith as Prince Phillip, John Lithgow as Sir Winston Churchill, Victoria Hamilton as the Queen Mother, Jared Harris as King George VI, Vanessa Kirby as Princess Margaret and Dame Eileen Atkins as Queen Mary. Here is the official plot synopsis from Netflix:
A Netflix original series, The Crown focuses on Queen Elizabeth II as a 25-year-old newlywed faced with the daunting prospect of leading the world's most famous monarchy while forging a relationship with legendary Prime Minister, Sir Winston Churchill. The British Empire is in decline, the political world is in disarray, and a young woman takes the throne....a new era is dawning. Peter Morgan's masterfully researched scripts reveal the Queen's private journey behind the public facade with daring frankness. Prepare to be welcomed into the coveted world of power and privilege and behind locked doors in Westminster and Buckingham Palace....the leaders of an empire await.
The Crown season one will be released on the Netflix streaming service in its entirety on Friday, November 4th, 2016.
Here is a list of the Netflix original series premieres for the rest of 2016:
Marvel's Luke Cage: September 30, 2016
Haters Back Off: October 14, 2016
Midnight Diner: Tokyo Stories: October 21, 2016
Skylanders Academy: October 28, 2016
The Crown: November 4, 2016
Captive: December 9, 2016
White Rabbit Project: December 9, 2016
Dirk Gently's Holistic Detective Agency (co-production with BBC America and AMC Studios): December 2016
Troll hunters: December 2016
Edgar Rice Burroughs' Tarzan and Jane: Fall 2016
Paranoid (co-production with ITV): Fall 2016
2016 TBA: 3%, Frontier, Ingobernable, The OA, World of Winx