'Desierto' Trailer: Jeffrey Dean Morgan Hunts Down Gael García Bernal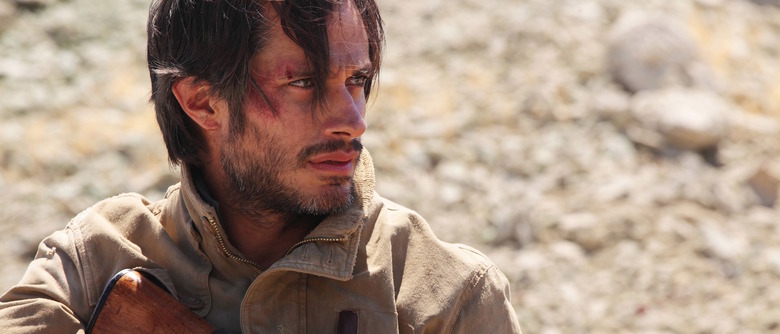 Jeffrey Dean Morgan's got villainous swagger to spare, as anyone who's seen his introduction in The Walking Dead can attest. And this fall he'll put it to good use on the big screen in Desierto.
Produced by Alfonso Cuarón and directed by his son Jonás Cuarón, Desierto stars Morgan as a gun-toting vigilante who drives out to the U.S.-Mexico border, looking for migrants to use as human target practice. One morning, he sets his sights on a group of border-crossers led by Moises, played by Gael García Bernal, and a tense cat-and-mouse game ensues. Watch the Desierto trailer below. 
While the concept of Desierto is a simple one, it's clearly got a political bent — one that's all the more impossible to ignore in an election year as fraught as this one. As The Guardian points out, it's "a pornographic dream to a subsect of American xenophobes." The idea of a human hunting another human, The Most Dangerous Game-style, is sickening in any context, but it's especially queasy to consider in light of the recent debates around immigration to the U.S.
Cuarón has been working on Desierto for about seven or eight years, and the film made its debut at TIFF last year to mixed reviews — like the one from THR which called its perspective on the immigration debate "woefully reductive." On the bright side, those just looking for a tense thriller may be pleased, as Variety says it "operates on a level that is swift, primal and unrelenting."
Desierto is in theaters October 14.
What begins as a hopeful journey to seek a better life becomes a harrowing and primal fight for survival when a deranged, rifle-toting vigilante chases a group of unarmed men and women through the treacherous U.S.-Mexican border. In the harsh, unforgiving desert terrain, the odds are stacked firmly against them as they continuously discover there's nowhere to hide from the unrelenting, merciless killer.