20th Century Women Teaser Trailer: Annette Bening Searches For Meaning In 1970s California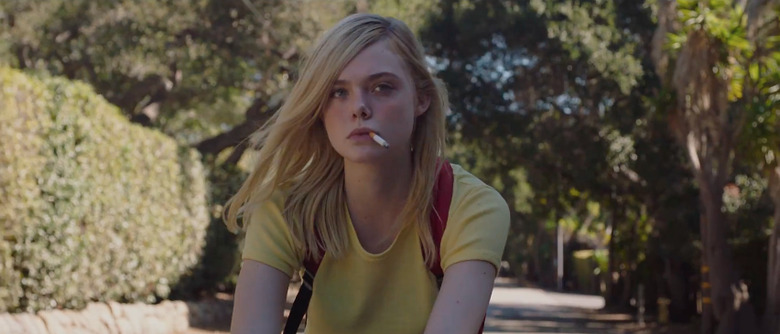 The first trailer for 20th Century Women opens with a familiar sound: a politician grandly diagnosing what he sees as the real problem with America. But the person talking isn't anyone running for president this year — it's Jimmy Carter, delivering his famous "Crisis of Confidence" speech in 1979. The characters watching the address seem largely unimpressed, save for Dorothea (Annette Bening). "I thought that was beautiful," she says.
20th Century Women is the new feature by Mike Mills, who last put out the rather lovely romance Beginners. He's lined up an impressive cast to bring to life his portrait of 1970s Santa Barbara, including Bening, Elle Fanning, Greta Gerwig, Billy Crudup, and Lucas Jade Zumann. Watch the 20th Century Women teaser trailer below.
The trailer gets across a strong sense of time and place, but is a little less clear when it comes to how exactly all these characters are connected. So we'll tell you. Bening is Dorothea Fields, a single mother raising her son Jamie (Zumann) with a bit of help from her boarder, free-spirited artist Abbie (Gerwig). Also around is another boarder, a handsome drifter played by Crudup. And Fanning plays their neighbor Julie, a young but seemingly savvy girl whom Jamie seems to have a crush on.
A24 has 20th Century Women out in theaters December 25, suggesting they're hoping for some awards attention. It's way too soon to say how this film will fare, since this trailer is the first significant bit of marketing we've seen. But we should have a better idea of how this film has turned out once it has its world premiere at the New York Film Festival on October 8.
Mike Mills's texturally and behaviorally rich new comedy seems to keep redefining itself as it goes along, creating a moving group portrait of particular people in a particular place (Santa Barbara) at a particular moment in the 20th century (1979), one lovingly attended detail at a time. The great Annette Bening, in one of her very best performances, is Dorothea, a single mother raising her teenage son, Jamie (Lucas Jade Zumann), in a sprawling bohemian house, which is shared by an itinerant carpenter (Billy Crudup) and a punk artist with a Bowie haircut (Greta Gerwig) and frequented by Jamie's rebellious friend Julie (Elle Fanning). 20th Century Women is warm, funny, and a work of passionate artistry. An A24 release.