Benedict Cumberbatch's Doctor Strange Will Report For 'Avengers: Infinity War'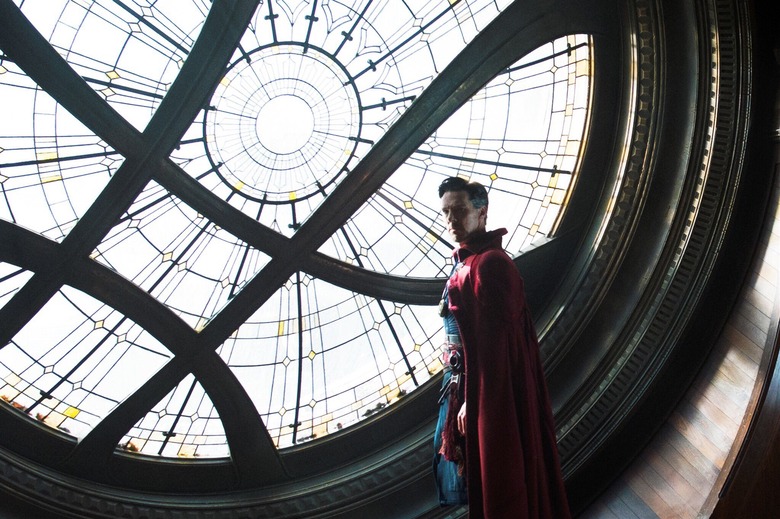 Avengers: Infinity War is shaping up to be a real all-hands-on-deck situation. Not only will the current Avengers and the Guardians of the Galaxy be reporting for duty, but characters we haven't even met yet like Captain Marvel are expected to join the fray. And you can add Doctor Strange to that growing list of superheroes. Benedict Cumberbatch let slip that the Sorcerer Supreme will be appearing in the 2018 team-up, following his own big-screen debut this fall. 
Empire (via Express) asked Cumberbatch what was coming up next for the Sorcerer Supreme. While the actor apparently didn't name Avengers: Infinity War outright, he did mention the "logistical challenge" of lining up his schedule with those of Robert Downey Jr., Chris Hemsworth, Elizabeth Olsen, and Paul Bettany, who play Iron Man, Thor, Scarlet Witch, and Vision, respectively. "To get us all together will be quite something. That's why this character is being introduced, to open up the next chapter," Cumberbatch added. "So watch this space to see how that unfolds."
But we may see Doctor Strange again before we get there. Recent photos from the set of Thor: Ragnarok suggested the film would have some connection to Doctor Strange, though it remains to be seen if that means we'll get a full-fledged Cumberbatch cameo or just a subtle Easter egg. Meanwhile, there are rumors that another Avenger could pop up in Doctor Strange. The whole point of a shared universe is that all of these characters can cross paths, so it'll be fun to watch how Doctor Strange fits into this franchise.
Joe and Anthony Russo are directing Avengers: Infinity War after helming two of the franchise's best entries to date, Captain America: The Winter Soldier and Captain America: Civil War. The film will pay off the Infinity Stones storyline that's been playing out in the background ever since Thanos popped up in the end credits of 2012's The Avengers, likely drawing from the Infinity Gauntlet comic book arc (rather than the Infinity War one that gives it its name).Avengers: Infinity War arrives May 4, 2018. Is it too much to ask that we get an adaptation of this scene?