Cool Stuff: Dan Mumford's 'Futurama' Print Goes Into The Sewers Of New New York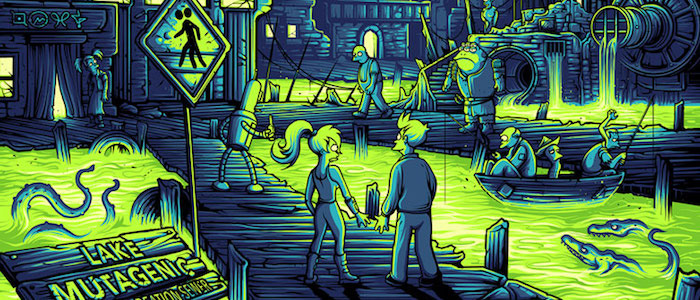 It may not be as long-lived as The Simpsons or South Park or Family Guy, but Futurama will forever and always have a special place in our hearts. Matt Groening's animated sci-fi sitcom was as lovably oddball as its characters — the kind of show that can laugh at the end of the universe, wring heartfelt romance out of a Magic School Bus-esque adventure, and rib Star Trek and its fans with the affection of a fellow fan.
Now, in honor of this weird and wonderful series, artist Dan Mumford has unveiled a new Futurama piece titled "You Guys Realize You Live in a Sewer, Right?" Check it out, and get all the details on how you can grab one, below.
We've featured Mumford's art here on /Film many times in the past and we're thrilled to help unveil a brand-new Futurama piece from him.
Both colorways will be available as silkscreen prints measuring 18" x 24" and costing $50 each. The green/blue regular version is a limited edition of 250, and the red/yellow variant version is an even more limited edition of 100. Personally, I love the pulsing neon green of the original version, but if you want something a little more muted to match your decor, you can't go wrong with the mustards and maroons of the variant, either.
In a conversation with Acme, Mumford gushed about why he loves Futurama.
It has to be the warmth and humanity in the show. There's this thread throughout of Fry's love for Leela, and you can't help but have sympathy for him as it all comes from the heart. He is a bit of an idiot a lot of the time... but goddamit he means well. Apart from that, every single character is fantastic, and for me, it was the perfect ensemble show. The setting meant they could do some really creative stuff and get really kind of strange with their ideas and use of narrative, and a lot of episodes had a lot of depth. It's a show very close to my heart.
Like all of us Futurama fans, Mumford has favorites:
There's two episodes of Futurama that always stood out to me. Both heartbreakers. The first is "Jurassic Bark" where Fry's dog Seymour waits every day for him to return, outside the pizza parlor he worked at... and of course, he never returns. I mean... I just can't watch that episode without welling up.
The second episode was the original final episode of the whole series, before it came back. "The Devil's Hands Are Idle Playthings," for me this was the perfect finale. Fry has been trying to win the love of Leela for so long... four whole series, to no avail, but then in the final moments when he plays the Holophonor without any aid, and he creates these crude but heartwarming images, you know he has won her heart. It's the perfect ending.
No surprise, then, that Fry and Leela are front and center in Mumford's new work. The print design perfectly captures the freaky-yet-friendly appeal of the Futurama universe. There are mutants and literal monsters and the whole thing looks like it could fall apart at any minute – but I'd be lying if I said I didn't want to go in and explore with Fry and Leela and Bender. Mumford spoke specifically about how he created this Futurama print, and what he hopes it conveys:
When beginning the process of working on this piece we knew we wanted to capture something to do with the Sewers of New New York, so most of my research was watching the episodes set there, mainly "I Second That Emotion," which is a fantastic episode. I really wanted to capture the overall feel of the Sewers, the vastness and idea that it was this old city underground. I also tried to get in as many characters and nods to the series as I could, So we have Leela's parents in there, El Chupanibre, loads of the mutants that live down there as well as a secret Nibbler hidden away as well, and of course our core trio of Bender, Fry and Leela. The idea was to capture their first moments stepping into the sewer looking up in awe at the hidden city that was beneath their feet all along. It was really fun putting the piece together and getting as much as I could in there!
"You Guys Realize You Live in a Sewer, Right?" goes on sale 11 AM Pacific today, Tuesday September 27, at DarkInkArt.com.