'The Autopsy Of Jane Doe' Teaser Trailer: Emile Hirsch And Brian Cox Encounter An Unnatural Force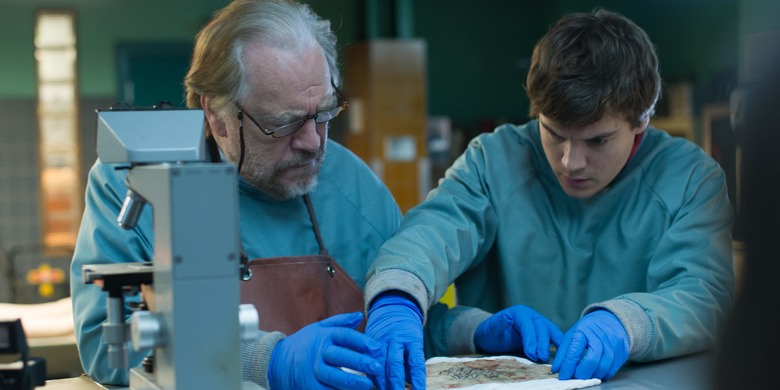 The Autopsy of Jane Doe is the newest film from director André Øvredal, the man behind the very fun found footage movie Trollhunter. Øvredal returns to us with a new horror picture starring Brian Cox and Emile Hirsch, playing father and son in this story. The Autopsy of Jane Doe recently played at Fantastic Fest, where our own Jacob Hall called the film "scary as hell."
Below, watch The Autopsy of Jane Doe teaser trailer.
Living in a small town in Virgina, mortician Tony Tilden (Cox) and his son and assistant, Austin (Hirsch), are responsible for the dead. One day they receive a "Jane Doe" (Olwen Kelly), a body found at the location of a terrible crime scene. On the outside, there's nothing unusual about Jane Doe's body, but her insides are the victim of some sort of torture. The Jane Doe brings about some unnatural force the father-son duo will have to confront.
Here's The Autopsy of Jane Doe teaser trailer:
This is a refreshingly atmospheric teaser, relying more on silence and mystery than a bunch of jump scares, although apparently, the jump scares are quite fun in the movie. In Jacob's review, he wrote Øvredal strikes a nice balance between mood and playful scares:
Øvredal has made a movie that is a genuine crowdpleaser and when the shit hits the fan, it hits it with a perfect mixture of jump scares and atmosphere. The Autopsy of Jane Doe will please anyone looking for a spooky "haunted house" experience, but it knows when to slow down and drill into the psyche. Øvredal shoots dimly lit hallways like a pro and the autopsy room where the bulk of the film takes place slowly transforms from a safe and sanitary refuge to something far more horrible.
How "Jane Doe" helps to slowly transform a quiet, seemingly peaceful mortuary into something far more horrific is, in the teaser trailer, an absolute mystery. The full-length trailer will likely reveal more details we probably don't need to know about The Autopsy of Jane Doe, but the teaser does just enough to get us interested without showing us much. The look of fear we see on Brian Cox's face is all we really need to see to want to know what exactly has him so scared.
Here's the official synopsis:
Experienced coroner Tommy Tilden and his grown-up son Austin run a family-owned morgue and crematorium in Virginia. When the local Sheriff brings in an emergency case — an unknown female corpse nicknamed 'Jane Doe', found in the basement of a home where a multiple homicide took place — it seems like just another open-and-shut case. But as the autopsy proceeds, these seasoned professionals are left reeling as each layer of their inspection brings frightening new revelations. Perfectly preserved on the outside, Jane Doe's insides have been scarred, charred and dismembered — seemingly the victim of a horrific yet mysterious ritualistic torture. As Tommy and Austin begin to piece together these gruesome discoveries, an unnatural force takes hold of the crematorium. While a violent storm rages above ground, it seems the real horrors lie on the inside...
The Autopsy of Jane Doe opens in limited release on December 21st.