'Peter Rabbit' Movie Recruits James Corden, Daisy Ridley & More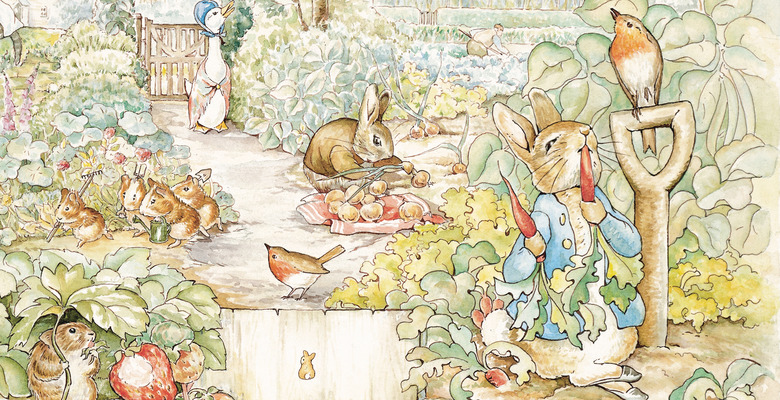 We've seen a few iconic literary characters get live-action and computer generated hybrid films, like Stuart Little and Paddington. Now another classic character from literature is getting the same treatment.
Columbia Pictures is working on a Peter Rabbit movie based on the beloved series of books written and illustrated by Beatrix Potter with Annie remake director Will Gluck at the helm. And the movie has already lined up an impressive voice cast and one live-action star. Find out who has been cast in the Peter Rabbit movie after the jump.
For those who don't know, the various books of Peter Rabbit follow the adventures of anthropomorphic rabbits who live just like humans do, but out in a rural meadow somewhere. They wear clothes, have a kitchen, furniture and all that jazz. In addition to Peter Rabbit, main characters include his mother Mrs. Josephine Rabbit, and his three sisters Flopsy, Mopsy and Cotton-tail.
Late night talk show sensation James Corden has been cast in the title role while Star Wars: The Force Awakens star Daisy Ridley and future Guardians of the Galaxy Vol. 2 star Elizabeth Debicki will also have voice roles, though it's not clear which characters they will play. More than likely they're playing two of the sisters, but we have no idea which ones specifically they could voice.
In addition, Rose Byrne has been cast as the live-action female lead, a character named Bea. This would appear to be a character inspired by Beatrix Potter, but as far as I know, she doesn't seem to be based on any characters in the books. Occasionally there were human characters, such as the man who owned the garden in which the Rabbits would get food (much to his chagrin), but most of the characters were other talking animals such as foxes and cats.
The animation will be handled by Australia's Animal Logic animation and visual effects studio with a script from Rob Lieber, who previously adapted Alexander and the Terrible, Horrible, No Good, Very Bad Day and is also slated to write the new adaptation of The Cat in the Hat. Director Will Gluck also provided revisions to the script, and he'll be producing along with Zareh Nalbandian from Animal Logic.
Next year, Peter Rabbit will be celebrating its 115th anniversary, while Beatrix Potter herself would have been 150 years old this year. The character is beloved around the world, so bringing him to the big screen could prove to be a very lucrative move for Sony. The character is rather old-fashioned, so there might not be quite as much of a built-in audience. The interest will likely depend on the style of the movie in the end, but Sony is counting on quite the reception with a worldwide licensing and merchandising program being launched in relation to the movie.
Peter Rabbit will begin production in January of 2017 with an eye towards releasing the movie in April 2018.