'Luke Cage' Trailer: The Hero Of Harlem Meets One Of His Own Heroes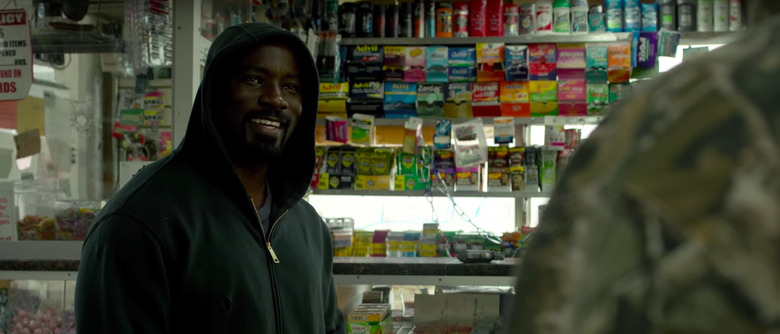 Here's hoping you had the foresight to clear your calendar for this weekend, because in case you've forgotten, we're just a few days away from the highly anticipated premiere of Luke Cage. And if you really did forget, Netflix has one more Luke Cage trailer here today to remind you.
Following the events of Jessica Jones, Luke heads uptown to hide out in Harlem... only to find himself battling a whole new bunch of baddies, like crime boss Cornell Stokes (Mahershala Ali) and politician Mariah Dillard (Alfre Woodard). Fortunately, he has some new friends, too, including Claire Temple (Rosario Dawson), who first crossed paths with Luke in Jessica Jones, and Misty Knight (Simone Missick). Oh, and Method Man. Turns out the rapper's a big fan, in the most endearing scene from the Luke Cage trailer. Check out the latest Luke Cage trailer below. 
As happy as we are to see Luke again, we're just as excited to meet some of the new villains. Marvel's shows are running circles around Marvel's movies when it comes to memorable baddies, with towering threats like Daredevil's Wilson Fisk and Jessica Jones' Kilgrave, and Cornell and Mariah look like more-than-worthy additions to the Marvel-Netflix rogues gallery. The latest Luke Cage trailer serves up a closer look at those two, who are clearly determined to do whatever it takes to rule Harlem. If, that is, they don't destroy each other first. "Politics is where the power is," says Mariah, to which Cornell retorts, "It's gangsters like me that let you hold on to what you got."
But there's plenty of Luke in this trailer, too. The hero of Harlem continues to wear that mantle reluctantly. "I don't want to be different than anybody else," he tells Claire, whose job in this trailer seems to be giving him pep talks. No one's quite buying it, though. When Luke insists to Misty that he's "not the hero type," she responds, "Looks to me like that's what you've always been." Which isn't to say there aren't some perks. The Luke Cage trailer ends with an absolutely adorable scene of Luke meeting one of his own heroes, Method Man, and even dropping his signature "Sweet Christmas!" line for the occasion.
Luke Cage arrives September 30.