Don't Expect To See Sam Neill In 'Jurassic World 2,' Because Alan Grant May Be Dead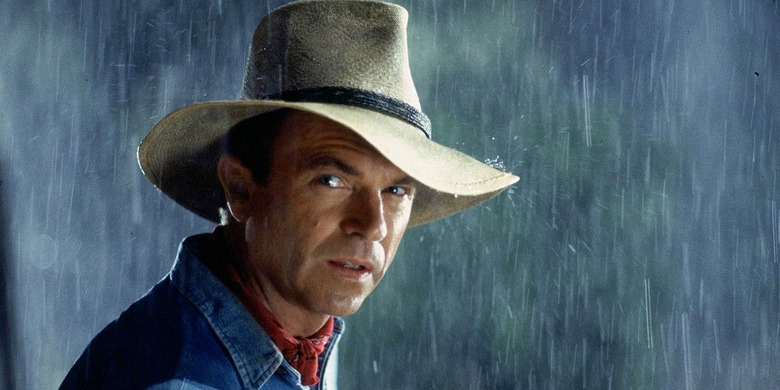 Just over the weekend, we got word from Sam Neill that he recently spent a couple days on the set of Thor: Ragnarok, shooting some kind of small role in the Marvel sequel. And with Jeff Goldblum already having a role in the film as The Grandmaster, that means Marvel is hosting a mini Jurassic Park reunion. Sadly that might be as close as we get to Neill and Goldblum getting back together.
While out promoting Hunt for the Wilderpeople (which was also directed by Thor: Ragnarok helmer Taika Waititi), Neill was asked if he might ever return to the world of dinosaurs in something like Jurassic World 2. Rather than dodging the question or flat out saying now, he offered a narrative reason as to why Dr. Alan Grant may not be available to return.
While some fans have certainly been hoping to see Jeff Goldblum or Sam Neill in Jurassic World 2, the latter explains what Grant has been up to that's keeping him away from the new dinosaur action:
"I think the problem is that no one knows where Alan Grant is anymore. He's retired from paleontology. He's sick to death of dinosaurs and running. He's not quite as fleet of foot as he was, and he's now retired to Dayton, Ohio, and has a very successful accountancy business... I think that's what's happened to Alan. Either that or he's dead."
Well, that took a dark turn pretty quickly. But honestly, I can't imagine Alan Grant ever walking away from paleontology entirely. However, Sam Neill does have a compelling reason for him to just leave his study behind, especially after considering the events of Jurassic Park and Jurassic Park III. Continuing his thoughts about the potential whereabouts of Alan Grant, Sam Neill wonders:
"How do you recover from all of that stuff? I don't think therapists are trained to deal with post-dino stuff. No. I don't think you get over it. Accountancy would be one way."
Neill possibly breaks the narrative he's constructed for a brief moment to confirm that "The call hasn't come" for him to return in Jurassic World 2, but then he's right back to his fictional world for Alan Grant:
"No one can find Grant. He's disappeared. Someone found his hat. His hat was floating on the Hudson river, but that was the last ever heard of him."
It sounds like we might need a movie like Star Wars: The Force Awakens where everyone is trying to find Alan Grant. And then at the end, we learn he's just been living on Isla Nublar. The final shot has Chris Pratt's Owen Grady standing on a cliff, holding out Grant's hat for him to take back.
In all seriousness, it's highly unlikely that either Sam Neill or Jeff Goldblum would return for Jurassic World 2. But the latter turned up for Independence Day: Resurgence, so almost anything is possible.

Jurassic World 2 is slated to arrive on June 22, 2018.