'Jumanji' Sequel's Video Game-Centric Plot Details Surface As Four New Cast Members Join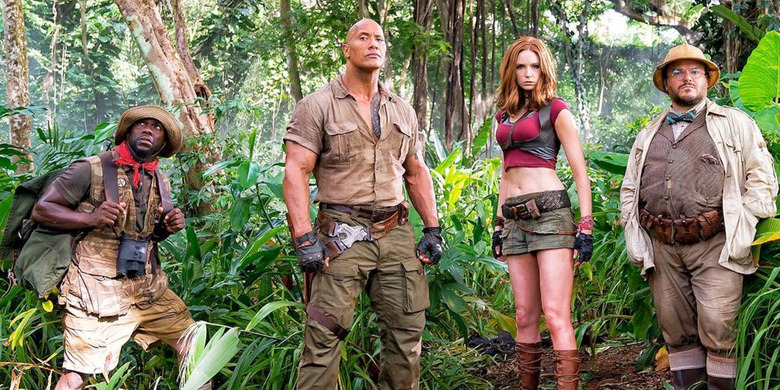 The primary cast of the Jumanji sequel from Sony Pictures has already been confirmed with Dwayne Johnson, Kevin Hart, Jack Black and Karen Gillan taking the lead roles. In addition, a photo from the set recently showed us how they'll all look in the jungles of the infamous board game. However, it turns out that this new take on Jumanji has been given a contemporary twist.
As news of four new young cast members hit the web this weekend, so did rumored details of what the Jumanji sequel is about. Rather than focusing on a board game, this time a group of kids get sucked into a video game version of Jumanji. So how do our previously announced cast members come into play? Find out about the Jumanji sequel plot details and the young new cast members after the jump.
First up, here are the four young cast members that Dwayne Johnson revealed on Friday:
Officially welcoming our #JumanjiJuniors to our film. @serdariusblain @madisoniseman @natandalex Morgan Turner. #DontBeScaredKids #Jumanji pic.twitter.com/KuE4si3UL7

— Dwayne Johnson (@TheRock) September 23, 2016
The new additions are Alex Wolff (formerly of The Naked Brothers Band and younger brother of Paper Towns star Nat Wolff), Madison Iseman (Still the King) and Ser'Darius Blain (who played a red shirt in Star Trek Into Darkness). They join the previously announced young cast member Morgan Turner as the characters that Johnson calls the "Jumanji Juniors." So what role do these kids play in the movie?
Well, thanks to a Twitter post by Mashable reporter Jeff Sneider, some Jumanji sequel plot details have been revealed. It turns out the story will follow four kids stuck in detention who get sucked into the game. Some responses on Twitter from people who appear to be in the know added that the game comes from a video console the kids find stored away somewhere in the school. Dwayne Johnson, Kevin Hart, Jack Black and Karen Gillan are playing the avatars of each of the kids in the game.
The Hollywood Reporter reveals that Alex Wolff's avatar is Dwayne Johnson's Dr. Bravestone while another Twitter response indicates that Jack Black's avatar (named Professor Shelly Oberon) may be controlled by one of the girls. It could be Morgan Turner, since she's lined up with Jack Black in the above photo, but since Alex Wolff doesn't line up with Dwayne Johnson, we can't safely assume that.
This new information might also key us into the reason why Karen Gillan's character (named Ruby Roundhouse) is wearing child-sized clothes. She previously said there was a reason for her wardrobe, and that reason could be that her character was created by a hormone-fueled teenage boy. That would leave Kevin Hart (Moose Finbar) to be controlled by the second girl.
It's nice to finally have some details clarifying what kind of story we're dealing with this time. However, it would be better to have some clarification on exactly which avatars match up to the younger cast members. These details certainly change up the concept of the movie enough so that it's not just a retread of the original, though that might be disappointing to some fans. This modern take does make me wonder just where the Robin Williams tribute will come into play.
Jake Kasdan (Sex Tape, Walk Hard, The Dewey Cox Story) is directing Jumanji for release on July 28, 2017.