It's 'Adventure Time' In 'The Simpsons' Season 28 Premiere Couch Gag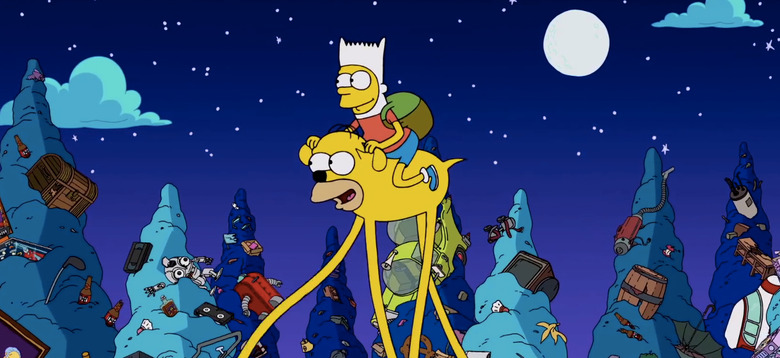 In recent years, The Simpsons has been executing some very elaborate and outstanding sequences for their traditional couch gag for the opening credits. Earlier this year The Simpsons got a Disney style makeover by Aladdin animator Eric Goldberg and last year featured references to Adult Swim's Rick and Morty and even another opening done by Ren & Stimpy creator John Kricfalusi.
Now The Simpsons is getting the Adventure Time treatment, and going through Springfield in the same style of the opening credits of the popular Cartoon Network animated series that kids and adults alike rather enjoy. It's an impressive sequence, and it's actually twice as long as the usual Adventure Time opening credits. See which Adventure Time characters The Simpsons become and see if you can spot all the Easter eggs, including a monorail reference, in the full couch gag after the jump.
Here's the The Simpsons Adventure Time couch gag straight from FOX:
As a point of comparison, here's the actual Adventure Time opening sequence:
Fans will be able to see this sequence before the 28th season premiere of The Simpsons on September 25th this weekend. The episode is called "Monty Burns' Fleeing Circus," and here's the synopsis:
Springfield burns to the ground, so the Simpsons beseech wealthy Mr. Burns to finance the rebuilding, but he has a price to pay—he's to put on a variety show at Springfield Bowl.
In addition, showrunner Al Jean has revealed that the episode will feature a flashback to Mr. Burns' childhood. It doesn't sound like the entire episode is a flashback, but it will be interesting to learn more about Mr. Burns' younger days.
Plus, later this season we'll be spending plenty more time with Mr. Burns as The Simpsons brings us their first hourlong episode in January. According to Entertainment Weekly, that episode will be called "The Great Phatsby" and as the title indicates, will be riffing on the classic novel The Great Gatsby by F. Scott Fitzgerald. In it, we'll see the friendship between Mr. Burns and a hip-hop mogul named Jay G fall apart. Homer Simpson serves as the narrator in the Nick Carroway part.
Though I fell away from The Simpsons years ago, every now and then I'm compelled to watch an episode because of something cool they're doing with the medium. For example, they had the conclusion of an episode last season featured Dan Castellaneta as Homer Simpson giving live, improvised answers to questions from fans. That was the first episode I had watched in awhile, and it wasn't bad. Maybe I'll tune in for the hour-long episode when it airs next year.
The Simpsons returns to FOX on September 25th this weekend.