FXX Announces 13-Day 'The Simpsons' Marathon With Exactly 600 Episodes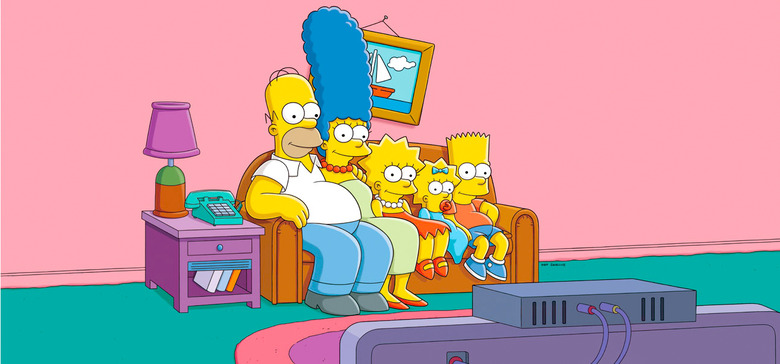 Back in 2014, FXX had the honor of hosting a marathon of every single episode of The Simpsons ever in honor of all the episodes being made available to stream for the first time ever. Since then, FX's sister network has been running reruns non-stop from every season (except whatever season is current). Now FXX will be having another marathon of every episode of The Simpsons ever again, but this time it will be even longer, breaking the record it previously set as the longest-running marathon in TV history.
Get details on The Simpsons marathon after the jump.
So why is FXX having this marathon again? Well, The Simpsons will be entering its 28th season starting this fall, and four episodes into that season they'll be airing their 600th episode with the latest Halloween-themed Treehouse of Horror episode. So to celebrate, FXX will be airing all 600 episodes of The Simpsons in a 13-day marathon.
The Simpsons marathon will be at 12 pm ET on November 24th (that's Thanksgiving Day for those keeping track), and it will run through December 6th. That's over 300 hours of The Simpsons. However, the 600th episode, Treehouse of Horror XXVII, will have already aired on October 19th before that. Also, in case you haven't heard, that episode will bring Homer's adversary Frank Grimes back from the dead.
FXX will again set the record for the longest-running marathon in TV history after previously setting it with their 12-day, 552 episode marathon of the animated series in 2014. But the next time they break this record, it might be to celebrate the end of the series.
The Simpsons was renewed for its 27th and 28th seasons back in 2015, but the negotiations to get all the staple voice actors back were a little difficult, especially with voice actor Harry Shearer. There have been rumblings that the series could be coming to an end soon with showrunner Al Jean even hinting at its conclusion sometime soon. In an interview with The Hollywood Reporter last fall, he said:
It's quite possible that we don't have to go through the whole negotiation for 30. I wouldn't be stunned if we stopped at 28 but my bet is on at least 30. But then you'd have to resign them again. If you made me pick one, I'd say the likeliest is ending after 30, but I've been wrong before. I thought five seasons was good when I got there (laughs).
Stopping at 30 seasons sounds like a nice round number. It would allow the show to comfortably surpass the all-time record episode number for a scripted prime-time TV series, which stands at 635 episodes Gunsmoke, which ran from 1955 to 1975. If The Simpsons does stop at 30 seasons, you can expect FXX to have another marathon in honor of the end of the series. But for now, fans should just enjoy all the new episodes of The Simpsons while they can.
The Simpsons 28th season debuts on September 25th on FOX while the marathon begins November 24th.