After "Voicing" BB-8, Bill Hader Joins The 'Power Rangers' Movie As Robot Alpha 5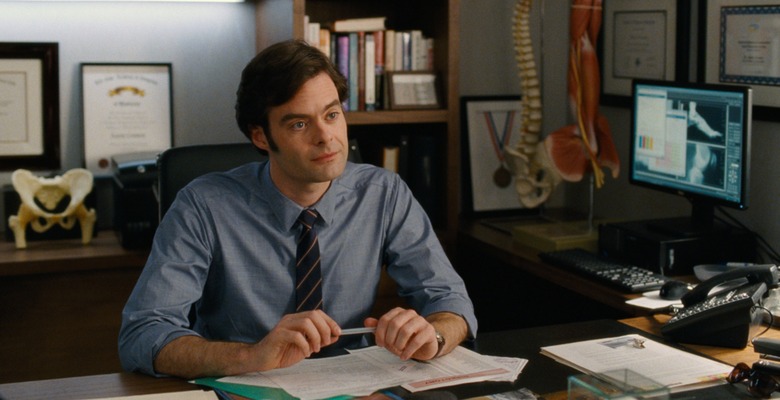 Bill Hader Power Rangers Casting
Residing in the Command Center with Zordon, Alpha 5 serves as the Rangers' technician, constructing weapons for them to use against the forces of Lord Zedd and Rita Repulsa. As you can see above, Alpha 5 sports an inverted yellow stylized lightning bolt symbol, and his head is in the shape of a golden flying saucer with a visor that flashes when he is speaking. He is most known for his cry of "Aye-yi-yi-yi-yi!" The beloved character even got his own direct-to-video musical Christmas special called Alpha's Magical Christmas.
Hader joins the previously announced cast which consists of Dacre Montgomery (Safe Neighborhood), RJ Cyler (Me And Earl and the Dying Girl), Naomi Scott (The Martian), Becky Gomez (Empire), and Ludi Lin (Marco Polo) as the Power Rangers. Elizabeth Banks (Pitch Perfect) is playing the villainous Rita Repulsa and while Bryan Cranston (Breaking Bad) will be playing the Rangers' wise mentor Zordon.
This isn't the first time Hader has voiced a robot. He also recently helped bring the voice of Star Wars droid BB-8 to life in JJ Abrams' Star Wars: The Force Awakens.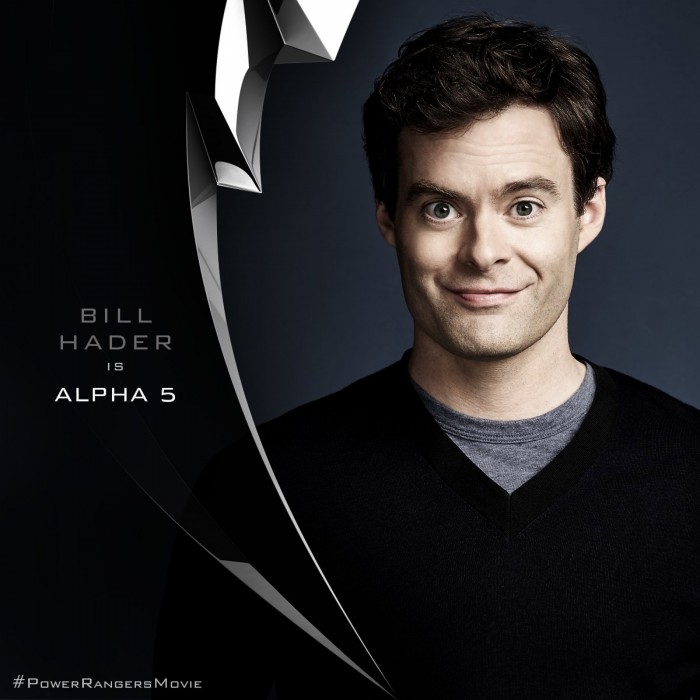 The announcement was made online with the above image.
Hader is best known for his work on NBC's sketch comedy series Saturday Night Live. He has appeared in a bunch of movies, including Sausage Party, The BFG, The Angry Birds Movie, Silicon Valley, South Park, Inside Out, Trainwreck, The Skeleton Twins, and had co-starring appearances in Popstar: Never Stop Never Stopping, Trainwreck, 22 Jump Street, The Mindy Project, Brooklyn Nine-Nine, Superbad, and Tropic Thunder.
Yesterday Lionsgate released a batch of new Power Rangers movie posters. Bryan Cranston has called the movie a Dark Knight-style reimagining of the source material while the initial teaser poster's Amblin vibe got my attention.
The official synopsis follows:
Saban's Power Rangers follows five ordinary high school kids who must become something extraordinary when they learn that their small town of Angel Grove – and the world – is on the verge of being obliterated by an alien threat. Chosen by destiny, our heroes quickly discover that they are the only ones who can save the planet. But to do so they will have to overcome their real-life issues and band together as the Power Rangers before it is too late.
Directed by Dean Israelite (Project Almanac), Power Rangers is written by John Gatins (Kong: Skull Island, Real Steel), Burk Sharpless and Matt Sazama (Dracula Untold), Zack Stentz and Ashley Miller (X-Men: First Class, Thor), and Max Landis (Chronicle). Producers are Power Rangers creator Haim Saban, Brian Casentini, Wyck Godfrey, and Marty Bowen (The Twilight Saga, The Fault in Our Stars, The Maze Runner franchise).