'Tresspass Against Us' Trailer: Michael Fassbender Wants Out Of The Criminal Family Lifestyle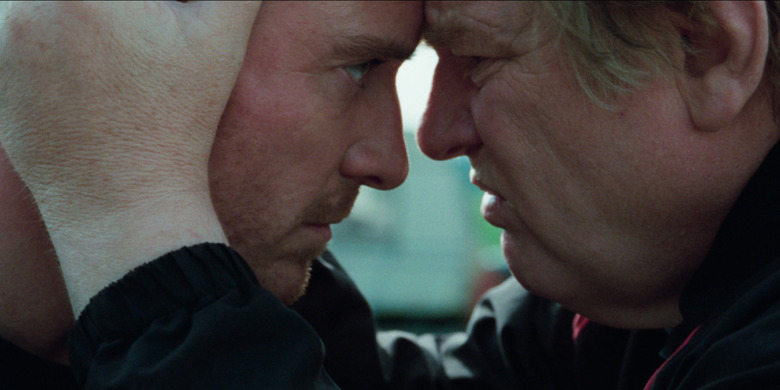 Before you watch Michael Fassbender play a man descended from a long line of assassins, how about watching Michael Fassbender as a man descended from a long line of low-level criminals? The actor recently hit TIFF with Trespass Against Us, which chronicles three generations of a criminal family in the British countryside.
Brendon Gleeson plays patriarch Colby, who's alternately charming and intimidating, while Fassbender plays his son Chad. Father and son don't always see eye to eye, but their tensions really boil over when Chad decides he wants out of the family lifestyle for the sake of his son, young Tyson (Georgie Smith). Trespass Against Us is the feature directing debut of Adam Smith, whose work you may have seen on the British show Skins and Doctor Who. Smith also shot a documentary for the Chemical Brothers, who have returned the favor by scoring Trespass Against Us. Watch the Trespass Against Us trailer below. 
The Trespass Against Us trailer takes a pretty sharp turn about halfway through. The first half has traces of darkness, but mostly feels like a quirky dramedy about a criminal family — like an edgier Little Miss Sunshine, maybe. Then it suddenly becomes a dead-serious crime drama full of spectacular car chases and violent run-ins with law enforcement. Maybe it's intentional, but it's definitely jarring.
I missed this one at TIFF, but reviews out of the premiere were very mixed. Indiewire's David Ehrlich gave it a B- and described it as "the rare film that's tense and charming in equal measure," while Screen Daily's Allan Hunter praised the "dynamic storytelling and powerful performances." But Collider's Matt Goldberg was far less impressed, complaining in his D- review that the film "goes nowhere." And perhaps no one hated this film more than Variety's Owen Glieberman, who snarks, "Even Ed Wood would have said, 'Needs work.'" Ouch.
A24 has not announced a release date for Trespass Against Us.
Trespass Against Us is set across three generations of the Cutler family who live as outlaws in their own anarchic corner of Britain's richest countryside. Chad Cutler (Michael Fassbender) is heir apparent to his bruising criminal father, Colby (Brendan Gleeson) and has been groomed to spend his life hunting, thieving and tormenting the police. But with his own son, Tyson (Georgie Smith) coming of age, Chad soon finds himself locked in a battle with his father for the future of his young family. When Colby learns of Chad's dreams for another life he sets out to tie his son and grandson into the archaic order that has bound the Cutler family for generations. He engineers a spectacular piece of criminal business involving a heist, a high-speed car chase and a manhunt, which leaves Chad bruised and bloodied and with his very freedom at stake.