'Taboo' TV Spot: Tom Hardy Knows A Thing Or Two About The Dead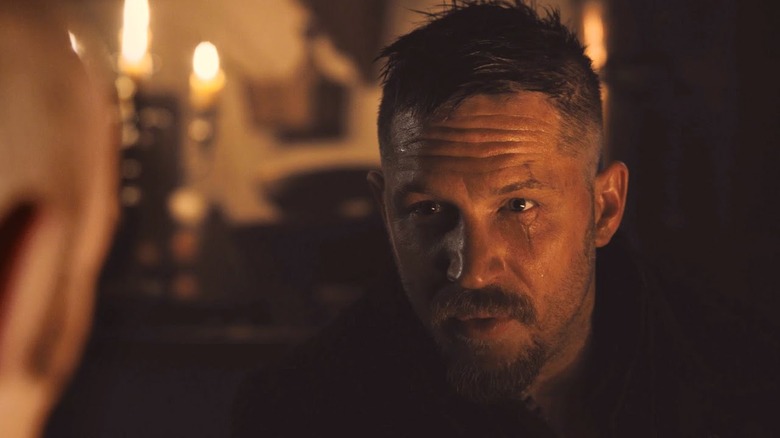 Tom Hardy and Steven Knight are inseparable these days. The actor starred in Knight's fantastic drama Locke and co-starred in the Knight-created series Peaky Blinders, and now the two of them are working on a new miniseries for BBC One and FX. Hardy stars in Knight's Ridley Scott-produced drama Taboo, which takes place in 1814. We've already seen a trailer for the miniseries, but FX is starting to air promos for it.
Below, watch the Taboo TV spot.
Hardy came up with this original story with his father Chips Hardy and Knight. In Taboo, Tom Hardy plays a rogue adventurer named James Keziah Delaney. After spending ten years in Africa and returning to London in 1814, he discovers he has been left a mysterious legacy and a shipping empire by his father, who was killed. Rather than sell the family business to the East India Company, Delaney tries to build a new life for himself and carry on the family business, as he begins to learn more about dark family secrets and encounters all sorts of enemies.
Here's the Taboo TV spot:
Half of the eight episodes of Taboo are directed by Kristoffer Nyholm, who made the original Scandinavian version of The Killing. Anders Engström (Thicker Than Water) directed the other four episodes, which co-star Jonathan Pryce, Michael Kelly, Oona Chaplin, and Leo Bill. It's also worth noting the miniseries is scored by Max Richter, who does tremendous work on HBO's The Leftovers.
The teaser above shows far less footage than the previous trailer, but even in a span of 20 seconds, Taboo continues to look like can't-miss television. Eight episodes of an atmospheric and almost nightmarish period drama starring Tom Hardy and created and co-written by Steven Knight? Sign us up.
Here's the official synopsis:
Set in 1814, Taboo follows James Keziah Delaney, a man who has been to the ends of the earth and comes back irrevocably changed. Believed to be long dead, he returns home to London from Africa to inherit what is left of his father's shipping empire and rebuild a life for himself. But his father's legacy is a poisoned chalice, and with enemies lurking in every dark corner, James must navigate increasingly complex territories to avoid his own death sentence. Encircled by conspiracy, murder, and betrayal, a dark family mystery unfolds in a combustible tale of love and treachery.
Taboo doesn't have a premiere date yet, but it will debut early next year on FX.