Jon Bernthal Shooting Scenes As The Punisher Next Month (Apparently), But For Which Series?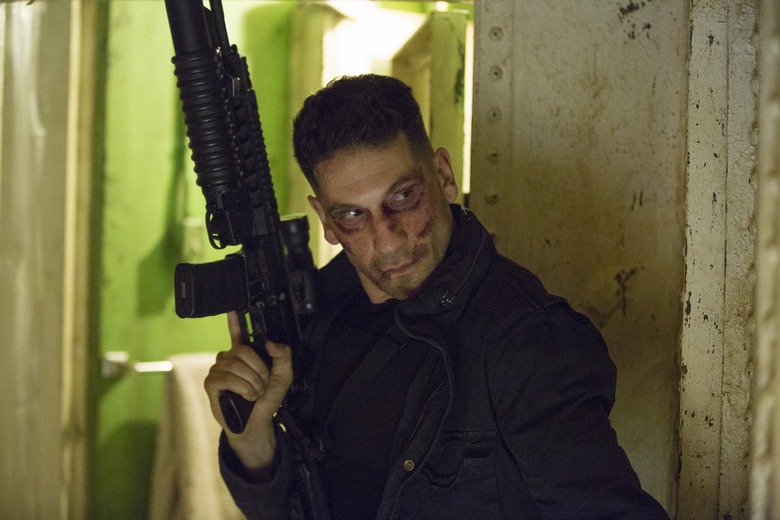 Ever since Jon Bernthal made his debut as the Punisher in Daredevil season two, fans have been eager to find out when we'll see him next. We know for sure he's getting his own The Punisher solo series, but not when it'll debut. And then there's the question of whether he might resurface before then. Is it possible he'll pop up in one of the other Netflix-Marvel shows, like Iron Fist or The Defenders?
No one official is saying, but recently a small detail about Bernthal's schedule has led to speculation about Netflix's future plans for the Punisher character. 
The latest round of Punisher-related speculation began with this tweet from New York Comic-Con, which runs October 6-9 this year.
Due to his Netflix production schedule, @jonnybernthal will only be at #NYCC on Saturday and Sunday. More info: https://t.co/uMrzkxxJWM pic.twitter.com/Ro6nMfqvry

— New York Comic Con (@NY_Comic_Con) September 21, 2016
The announcement doesn't say what exactly Bernthal is working on. But as far as we know, Bernthal's only upcoming Netflix project is his role as the Punisher. So it's probably reasonable to guess his scheduling conflict has something to do with Frank Castle. With that in mind, let's run down the possibilities.
Iron Fist. This is the only Netflix-Marvel show currently in production, and it's filming right here in New York. While the Punisher doesn't seem to be playing a major role in the Iron Fist series, it wouldn't be out of the realm of possibility for the character to pop in for an episode or two.
The Defenders. Shooting has not started but will before the end of 2016. Netflix has not confirmed Bernthal's Punisher will appear in the the superhero team-up series (which brings together Daredevil, Jessica Jones, Luke Cage, and Iron Fist), but they haven't said he won't appear, either. Asked earlier this year whether the Punisher will make an appearance, Netflix's Ted Sarandos would say only, "Stay tuned."
The Punisher. This show isn't expected to premiere until after The Defenders, which means we're probably looking at a late 2017 debut at the earliest. But maybe Netflix has moved up the release schedule, or just wants to get started sooner rather than later.
Any way you slice it, this is only good news for fans of Bernthal's Punisher. The character very quickly proved a fan favorite on Daredevil, and is now on his way to becoming an even more prominent part of Netflix's grimy little corner of the Marvel universe.
And there's a slight but intriguing possibility that his influence won't stop there. Comic Book Movie is wondering whether Bernthal's Punisher could appear on a non-Netflix Marvel show — specifically, Agents of S.H.I.EL.D. During a red carpet interview for ABC drama's fourth season premiere, Marvel TV's Jeph Loeb introduced comic book writer Gerry Conway as "the creator of the Punisher," adding, "You will understand why I brought all of these people here later in the season, and why it makes sense."
Technically, the Netflix-Marvel shows and the ABC-Marvel shows (like S.H.I.E.L.D.) all belong to the same universe, so there's no reason Frank Castle and Phil Coulson couldn't appear side by side. In practice, however, there's been very little cross-pollination between those two different corners of the Marvel TV universe. Could Punisher be the character to bring them together? Again, this is all just conjecture for now. But if Marvel TV wanted to go in that direction, Frank Castle would be an interesting place to start.