Fan Edited 'Ghost In The Shell' Trailer Combines All The Teasers Alongside Bits From The Anime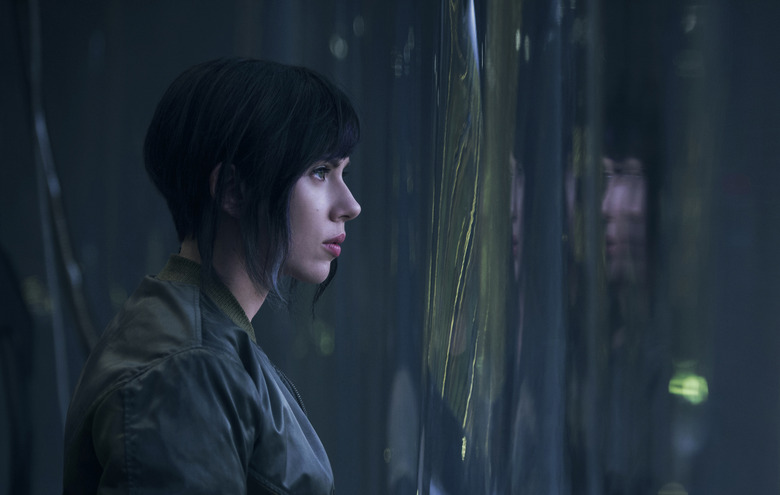 Last night, Paramount Pictures and Dreamworks released five brief teaser trailers for the upcoming English-language live-action adaptation of Ghost in the Shell starring Scarlett Johansson attached to the finale of Mr. Robot (a clever place to premiere the spots if you ask me). If you missed the five Ghost in a Shell teaser trailers, check them out. /Film reader Tim Gonzales decided to try to edit the five teaser clips together into a proper one-minute-long teaser trailer. If you're not yet excited about this film, hit the jump and check out the fan edited Ghost in the Shell teaser trailer.
Fan Edited Ghost in the Shell Trailer
/Film reader Tim Gonzales did a great job with this edit, even including some bits from the original 1995 anime film's opening sequence that OG fans will surely recognize. I have to admit, I wasn't really too excited about this adaptation before the teaser trailer clips were released last night. After seeing this fan edited Ghost in the Shell trailer I am very tempted to revisit the original anime which I haven't seen in over a decade.
Ghost in the Shell stars Scarlett Johansson and is directed by Rupert Sanders (Snow White and the Huntsman).
Based on the internationally-acclaimed sci-fi property, "GHOST IN THE SHELL" follows the Major, a special ops, one-of-a-kind human-cyborg hybrid, who leads the elite task force Section 9. Devoted to stopping the most dangerous criminals and extremists, Section 9 is faced with an enemy whose singular goal is to wipe out Hanka Robotic's advancements in cyber technology.
The film is based on the famous Kodansha Comics manga series of the same name, written and illustrated by Masamune Shirow. Produced by Avi Arad (The Amazing Spider-Man), Ari Arad (Ghost Rider: Spirit of Vengence), and Steven Paul (Ghost Rider: Spirit of Vengence).
The cast of "GHOST IN THE SHELL" includes Beat Takeshi Kitano ("MERRY CHRISTMAS, MR. LAWRENCE," "BATTLE ROYALE" series) as Daisuke Aramaki, Juliette Binoche ("THE ENGLISH PATIENT," "CHOCOLAT") as Dr. Ouelet, Michael Pitt ("Hannibal," "Boardwalk Empire") as Kuze, Pilou Asbæk ("BEN-HUR," "LUCY") as Batou, and Kaori Momoi ("MEMOIRS OF A GEISHA," "HONG KONG CONFIDENTIAL"). The members of Section 9 are played by Chin Han ("INDEPENDENCE DAY: RESURGENCE"), Danusia Samal ("Tyrant"), Lasarus Ratuere ("Terra Nova"), Yutaka Izumihara ("UNBROKEN") and Tuwanda Manyimo ("THE ROVER").
The film's crew includes Cinematographer Jess Hall ("THE SPECTACULAR NOW"), Editor Neil Smith ("SNOW WHITE AND THE HUNTSMAN"), Production Designer Jan Roelfs ("FAST & FURIOUS 6"), and Costume Designers Kurt Swanson and Bart Mueller ("THE HUNGER GAMES: MOCKINGJAY – PARTS 1& 2").
Paramount Pictures will release Ghost in the Shell in the U.S. on March 31, 2017.