Watch Michael Bay Direct The World's Loneliest Dog In 'Transformers: The Last Knight'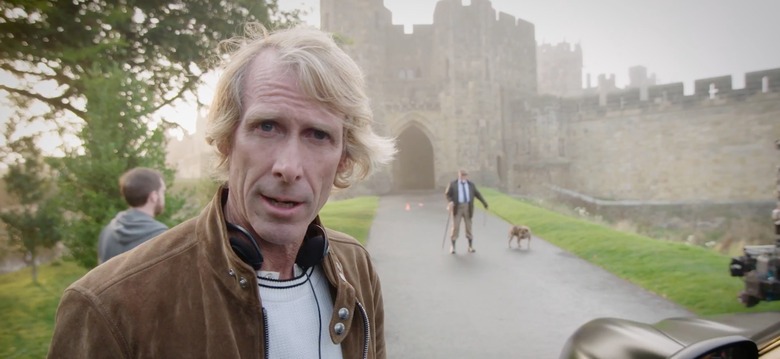 What happened when filmmaker Michael Bay read an article about "The World's Loneliest Dog?" The action director decided to give her a role in his latest film, Transformers: The Last Knight. The homeless epileptic Staffordshire Bull Terrier named "Freya" had been passed over for adoption at the Freshfields Animal Rescue Centre more than 18,000 times over six years, despite being a "very loving dog." See the video of Freya making her big screen debut alongside Academy Award-winner Anthony Hopkins after the jump.
Video: World's Loneliest Dog In Transformers
As it turns out, Michael Bay is a dog lover with two of his own – bullmastiffs named Bonecrusher and Grace. When he learned of Freya's story in the newspaper, he tweeted that not only would he give her role but that he would adopt her if no one else would. Freya She has since been adopted by a couple in the UK. The video above shows Bay fulfilling his promise. It's a heartwarming story, and the video may have made my eyes water up a bit as I'm also a lover, if you ever follow me on Instagram, you're likely never to get tired by my many photos of my French bulldog Pixel.
And even if you aren't a dog lover or a sucker for these kinds of stories, the video above it worth watching to get a glimpse of the filming of Transformers: The Last Knight. We still don't know what role Anthony Hopkins plays in this fifth Transformers adventure. The video shows Hopkins portraying an old man smoking a pipe walking his dog, who appears to live in a Scottish castle. He also seems to have a massive tank-like vehicle for protection. Smiling during takes, we can maybe assume he's not with the evil Decepticons but somehow on the side of Mark Wahlberg's Cade Yeager and the Autobots.