'The Red Turtle' Trailer: Studio Ghibli's First International Co-Production Is A Wordless Wonder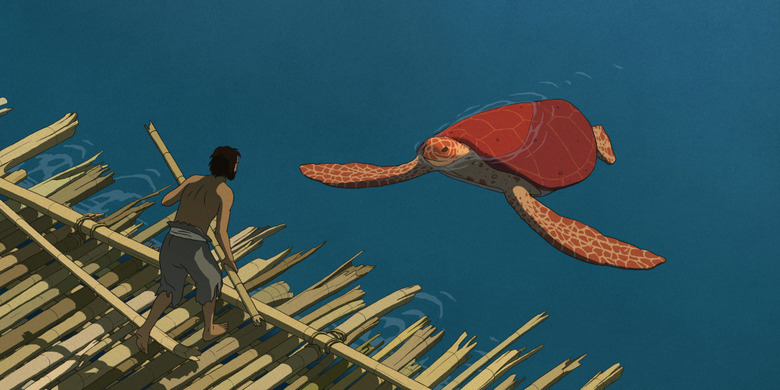 Studio Ghibli is venturing into new territory. The animation house's first international co-production is The Red Turtle, a gorgeous fable from Dutch animator Michaël Dudok De Wit. While not a Studio Ghibli release per se, this wordless wonder is certainly worthy of standing with the Japanese giant's other titles. The story and art are deceptively simple, spinning a tale of an unfortunate man stranded on a desert island, but what eventually emerges is a moving meditation on the cycle of life.
The Red Turtle has already won over audiences at Cannes and TIFF (among other festivals) and is now preparing to set sail for U.S. theaters. Check out the new The Red Turtle trailer below. 
The Red Turtle Trailer
The trailer gives away quite a bit of the movie, but then again this isn't really the kind of movie you can "spoil." I caught The Red Turtle at TIFF, and it's less about following the twists and turns of the story than about giving yourself over to the entire experience. It's funny and sad and moving for reasons I can't quite put into words. Above all, it's a movie about life: about the struggle for survival in the face of nature's indifference, about the eternal cycle of death and birth, about the sheer joy of existence, about the big and little moments that make up our time on Earth.
There's nothing in it that's inappropriate for kids, per se (though very small children may be spooked by some of the more frightening sequences involving storms and whatnot), but it feels more like a movie for people who've been around long enough to have some thoughts about everything I mentioned above.
The Red Turtle opens in New York and LA on January 20, 2017 and will expand to other markets in the weeks that follow.
Shipwrecked on a deserted island, a lone man struggles to find his place in this new world. The basics for survival are abundant yet frustratingly out of reach, and danger lurks in the smallest of crevices; every isolated grotto is also a potential grave. The man cleverly uses the forest's resources to support his raft-making efforts, but his every escape attempt is thwarted by an enormous sea turtle who seems intent on having him stay. Enraged, he attacks the turtle, intent on killing it. What happens next is the beginning of a new chapter in the man's life, one that will instruct him in the ways of companionship and lead him to understand that nature must take its course.