'Ghost In The Shell' Teaser Trailers: A Glitchy Look At The Familiar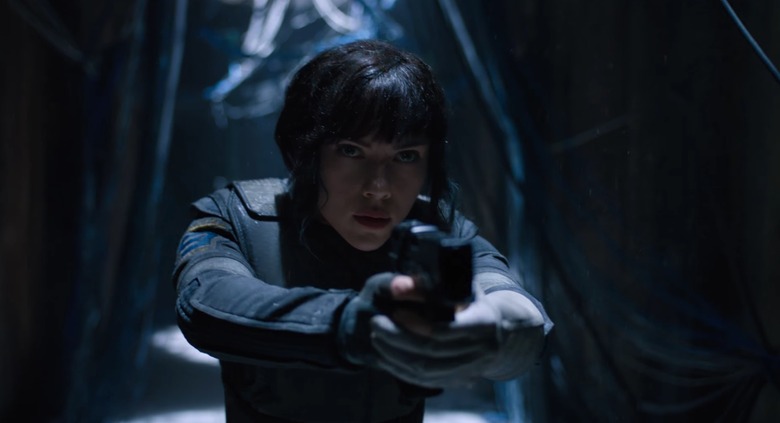 Timed with Wednesday night's broadcast of the Mr. Robot season finale, Paramount treated us to our first look at the upcoming live-action Ghost in the Shell movie. After the jump, you can watch all five of the new Ghost In The Shell teaser trailers.
Ghost In The Shell Teaser Trailers
These teasers only give us a glimpse at the upcoming movie. We see almost complete recreations of scenes from the original (shades of Zack Snyder's Watchmen in this respect) featuring a scantily clad Scarlett Johansson, stylish sets, Takeshi Kitano sporting a crazy hairdo firing a gun, a look at a new logo and more. Leave your thoughts in the comments below.
I'm sure we'll get a longer look at this film pretty soon, but for now here are some screen caps:
Ghost in the Shell filmed earlier this year in New Zealand and is now in post-production. Here's a brief description of the movie from Paramount and DreamWorks:
Based on the internationally-acclaimed sci-fi property, "GHOST IN THE SHELL" follows the Major, a special ops, one-of-a-kind human-cyborg hybrid, who leads the elite task force Section 9. Devoted to stopping the most dangerous criminals and extremists, Section 9 is faced with an enemy whose singular goal is to wipe out Hanka Robotic's advancements in cyber technology.
Starring with Johansson are Takeshi Kitano as Section 9 chief Daisuke Aramaki; Michael Pitt as Kuze (not the Laughing Man as we previously believed); Pilou Asbæk as the Major's second-in-command Batou; Juliette Binoche as Dr. Ouelet; Kaori Momoi in an unnamed role; and Chin Han, Danusia Samal, Yutaka Izumihara, and Tuwanda Manyimo as various members of Section 9.
Ghost in the Shell is based on the Japanese franchise of the same title, which began as a manga in the late 1980s. While this live-action movie is based on the original manga, the comics gave rise to animated films (including Mamoru Oshii's classic 1995 movie), multiple anime TV series, and video games. Ghost in The Shell hits theaters March 31, 2017.