New 'Power Rangers' Posters Need Dinozord Power Now!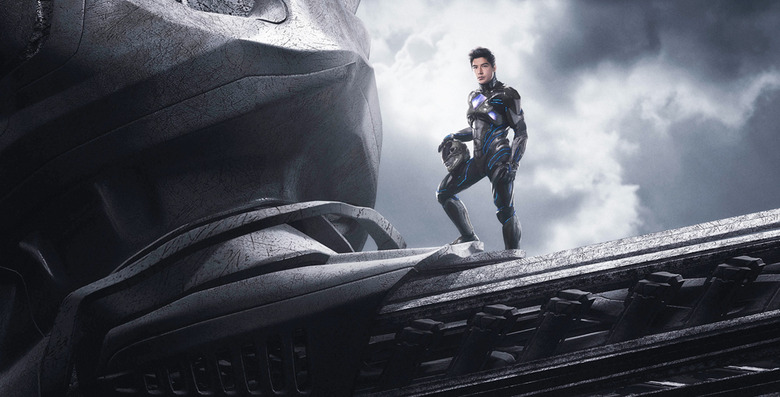 Whether you like it or not, the release of the new Power Rangers movie is getting closer. We're still waiting to get a teaser trailer for the adaptation of the imported live-action series that made waves in the 1990s and has seen over 20 different iterations since then, and now we have word that the first footage from the movie will debut at New York Comic-Con on Saturday, October 8th.
To ramp up the excitement leading up to the footage debut, a new batch of Power Rangers teaser posters have arrived, giving us a glimpse of each of the Zords, the colossal assault vehicles that can be called upon and piloted by each of the warriors. Check them out below.
Here's all five of the new Power Rangers teaser posters straight from Lionsgate:
As you can see, each of the Zords is accompanied by Dacre Montgomery, RJ Cyler, Naomi Scott, Becky G and Ludi Lin suited up as the Red, Blue, Pink, Yellow and Black Rangers respectively. Hopefully these still images of the Zords and their respective Power Rangers chilling out on them isn't indicative of how fake they'll look in the movie. Unless the style of the movie is to be bright, vibrant and artificial, these don't instill much confidence in a movie that we're already skeptical of to begin with. Sure, kids are the target audience, and kids love colors, but that doesn't mean they have to look terrible too.
Since the new Power Rangers movie is using the same names and color scheme of the original Might Morphin' Power Rangers, it should come as no surprise to see that their Zords appear to use the same prehistoric creatures as inspiration. The Red Ranger had a tyrannosaurus rex, the Black Ranger had a mastodon, the Blue Ranger had a triceratops, the Yellow Ranger had a sabre-toothed tiger and the Pink Ranger had a pterodactyl. While we can only see a small part of the giant Zords, it does appear as if the creature inspirations for each of them has remained the same.
Stay tuned to see if whatever footage is shown at New York Comic-Con ends up online shortly after that. At this point, we're just curious to see how this movie looks in action since the still photos have left a lot to be desired so far.
Saban's Power Rangers follows five ordinary high school kids who must become something extraordinary when they learn that their small town of Angel Grove – and the world – is on the verge of being obliterated by an alien threat. Chosen by destiny, our heroes quickly discover that they are the only ones who can save the planet. But to do so they will have to overcome their real-life issues and band together as the Power Rangers before it is too late.
Directed by Dean Israelite (Project Almanac), Power Rangers is written by John Gatins (Kong: Skull Island, Real Steel), Burk Sharpless and Matt Sazama (Dracula Untold), Zack Stentz and Ashley Miller (X-Men: First Class, Thor), and Max Landis (Chronicle). Producers are Power Rangers creator Haim Saban, Brian Casentini, Wyck Godfrey, and Marty Bowen (The Twilight Saga, The Fault in Our Stars, The Maze Runner franchise).
Power Rangers will morph into theaters on March 24, 2017.