Director Duncan Jones Starts Shooting 'Mute' Next Week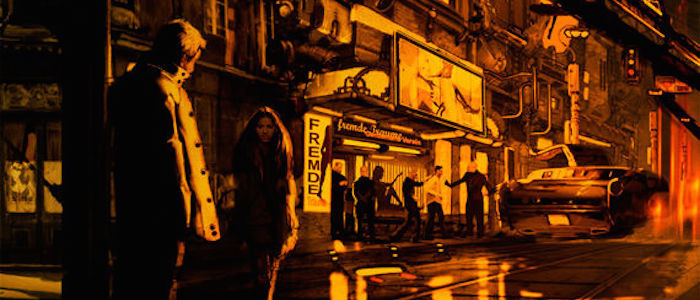 Mute has been a longtime passion project for Duncan Jones. The director wanted to make the Berlin-set sci-fi film, which he co-wrote with Michael Robert Johnson, his directorial debut, but it got put on hold for Moon. Still struggling to get Mute financed, Jones then made Source Code his sophomore effort. Then he went on to direct Warcraft. But before his video game adaptation opened in theaters, it was announced Alexander Skarsgård and Paul Rudd would star in Mute. The two actors will enter Berlin circa 2046 soon because Duncan Jones' film finally begins shooting next week.
Below, learn more about Mute.
Duncan Jones announced on Twitter that principal photography on Mute starts one week from today. He's described the dark sci-fi thriller as having shades of Paul Schrader's Hardcore, Robert Altman's MASH, Casablanca, and, if you couldn't already tell from the concept art, Blade Runner.
.@MUTE_Film starts shooting in.... one week from today! :0 pic.twitter.com/hbgQVkPyMR

— Duncan Jones (@ManMadeMoon) September 21, 2016


Mute is set in a dystopian Berlin. Skarsgård will play a mute bartender named Leo, while Rudd will play a mysterious American surgeon. Sam Rockwell is also set to appear in the film. The significance of his part is unknown, but he'll serve as a bridge between Moon and Mute, reprising his role as Sam Bell and connecting the two worlds. If you want to know more about the plot of Mute, here's the official synopsis:
Berlin. Forty years from today. A roiling city of immigrants, where East crashes against West in a science-fiction Casablanca. Leo Beiler (Skarsgard), a mute bartender has one reason and one reason only for living here, and she's disappeared. But when Leo's search takes him deeper into the city's underbelly, an odd pair of American surgeons (led by Rudd) seem to be the only recurring clue, and Leo can't tell if they can help, or who he should fear most.
Jones, the cast, and crew will remain in Berlin for the entirety of the shoot. Jones also shared on Twitter that the Mute graphic novel – which was announced over five years ago — has been put on pause for the film. The director was hoping the graphic novel would help prove to skittish financiers there's an audience for this story, but fortunately for Jones, that didn't end up being necessary.
Expect to hear more casting announcements for Mute soon. Skarsgård, Rudd, and Rockwell are the only actors confirmed to star in the movie, which will reunite Duncan Jones with Moon's composer Clint Mansell and cinematographer Gary Shaw.