'Newtown' Trailer: How Does A Small Community Recover From A Despicable Act Of Violence?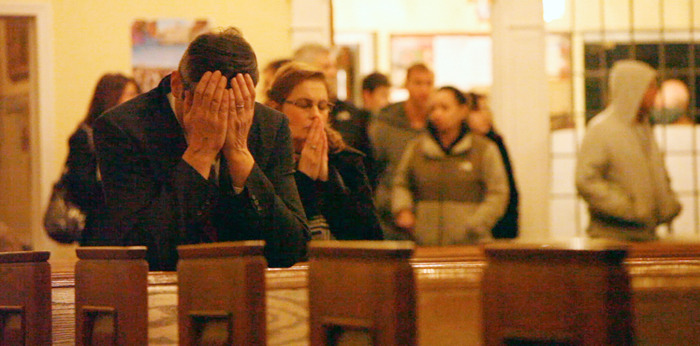 On December 14, 2012, a gunman entered Sandy Hook Elementary School in Newtown, Connecticut and shot 20 children aged between 6 and 7 years old, as well as six adult staff members. It's the kind of horror that you hope one can't even imagine, but it became a real life nightmare for the parents and families of the murdered children and school employees. Now a new documentary looks at how the small town is recovering a few short years later.
Newtown premiered at the 2016 Sundance Film Festival earlier this year and was acquired this past summer for a release this fall. Now the first trailer for the documentary has arrived, profiling the parents who lost their children in the vicious act, as well as a surviving teacher, one of the emergency room doctors who took care of the victims, and even some of the survivors who witnessed this tragedy firsthand.
Watch the Newtown trailer after the jump.
While you might expect this documentary to push a serious agenda when it comes to gun control, reviews peg this documentary as less political and more about these real people and how they've recovered since the attack. Variety's review says:
The documentary on the aftermath of the 2012 Sandy Hook Elementary School shootings, is not an explicitly political film. Structured more like a requiem than a polemic, the doc ebbs and flows in accordance with the cycles of mourning as it speaks with parents of the murdered children, as well as the teachers, priests, doctors and neighbors afflicted with survivor's guilt, elegantly and devastatingly capturing the tenor of a small town that will carry these scars for at least a generation. Though it does briefly address the particulars of the gun-control cause which several of the victims' families have taken up, "Newtown's" politics are purely implicit, showing us just how much misery one bad guy with a gun can cause, and proves all the more effective for it.
This looks like a truly heartbreaking documentary, one that may just be too much for parents or victims of other comparable acts of violence to endure. But it may also be uplifting for some to see that there can be life after tragedy, even one as horrific as this. Audiences will be able to see how Newtown has recovered for themselves when the documentary hits limited theaters on October 7.
There are no easy answers in NEWTOWN – no words of compassion or reassurance that can bring back the 20 children and six educators who lost their lives during the shooting at Sandy Hook Elementary School. Instead, Snyder gives us exclusive access into the lives and homes of those who lost loved ones, and others in the community who have been indelibly changed by the events. Each person, be it a parent, school nurse, or state police officer, tries in their own way to make sense of their loss, as well as confront our nation's inability to quell gun violence in even the most peaceful of communities. NEWTOWN bears witness to their profound grief and allows it to reverberate within our collective conscience – exploring what happens to a community after it becomes the epicenter of a national discussion, and what is still left to cope with after the cameras leave.