POTD: Steve From 'Stranger Things' Finally Meets His Future Son, Jean-Ralphio From 'Parks And Recreation'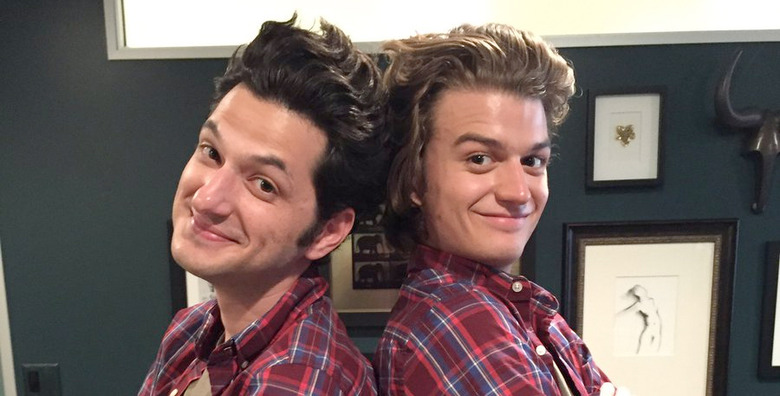 Fans of Stranger Things who also happen to be fans of the comedy series Parks and Recreation have noticed that Joe Keery (who plays Steve on Netflix's sci-fi show) looks an awful lot like Ben Schwartz, who played Jean-Ralphio Saperstein on the NBC comedy series. Fans hypothesized that since Stranger Things is set in the fictional Indiana town of Hawkins in the 1980s, it only made sense that he would turn out to be the father of Jean-Ralphio in Parks and Recreation's fictional Indiana town of Pawnee.
Thankfully, Ben Schwartz took the time to confirm this theory on The Late Late Show with James Corden back in August, and now we get to see father and son reunited in a series of photos posted to social media by the two actors.
Check out some of the Stranger Things and Parks and Recreation "reunion" photos after the jump.
Ben Schwartz showed off the surreal meeting with Joe Keery with this little Instagram video:
Dad and son meet because the Internet. @uncle_jezzy @strangerthingstv #strangertwins
A video posted by Ben Schwartz (@rejectedjokes) on
The comedian also posted a picture dubbed The Upside Down Parent Trap, which I would pay to see in theaters:
The Upside Down Parent Trap. pic.twitter.com/EcVfdvOIzA

— Ben Schwartz (@rejectedjokes) September 20, 2016
But perhaps the best picture features the two shaving together, just like a loving father and son:
Dad and son meet because the Internet. @joe_keery @Stranger_Things #strangertwins pic.twitter.com/Dkxm5NjCtL

— Ben Schwartz (@rejectedjokes) September 20, 2016
Ben Schwartz clearly indicates that their meeting happened because of this popular internet theory, but are they doing more than just posing for a couple of photos? Personally, I'm hoping that these two got together to create some kind of video to realize this theory even more. Just that photo of the two actors back-to-back gives me the vibe of a cheesy sitcom that you would see on ABC's old TGIF lineup from the '90s. Surely Funny or Die would want to bank on the popularity of Stranger Things and this theory for some kind of hilarious video, so hopefully something like that is the reason behind this meeting.
It would be amazing if there were Easter eggs in Stranger Things that hinted at the proximity of Pawnee, Indiana. The two shows would likely never be able to actually cross over, but we can dream that somewhere in the timeline of Stranger Things there's a young Leslie Knope preparing to become one of Indiana's most prominent political leaders. It's probably for the best that she doesn't get caught up in the shenanigans of the kids of Hawkins, Indiana. Then the future of Pawnee would probably become an Upside Down of its own where Bobby Newport (Paul Rudd) takes over the town.