'L.A. Confidential' Director Curtis Hanson Dead At 71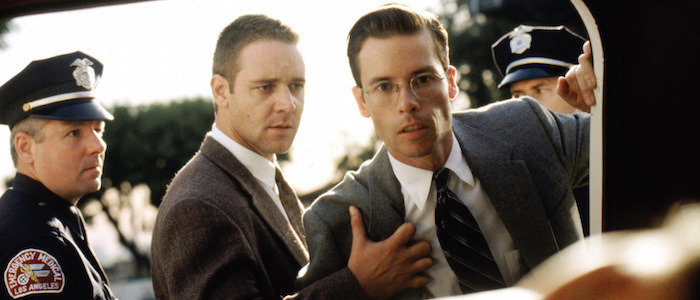 Academy Award winning filmmaker Curtis Hanson, whose credits include masterpieces like L.A. Confidential, hits like 8 Mile, and under-seen gems like Wonder Boys, passed away yesterday from natural causes in his Los Angeles home. He was 71 years old.
TMZ reports that that the screenwriter, producer, and director, who had retired from filmmaking and was reportedly battling Alzheimer's, died after suffering a heart attack. The specific cause of death has not been officially confirmed.
Born on March 24, 1945 in Reno, Nevada, Curtis Hanson dipped his toe into the film industry as a photographer and editor for Cinema Magazine. His first credit arrived in 1970 when he co-wrote an adaptation of H.P. Lovecraft's classic weird tale The Dunwich Horror for American International Pictures, making him one of many successful filmmakers to have gotten their start in the low-budget world of producer Roger Corman. He made his directorial debut with the 1972 thriller Sweet Kill before writing the scripts for the 1978 thriller The Silent Partner (starring Christopher Plummer and Elliot Gould) and Samuel Fuller's provocative 1982 drama White Dog.
Although Hanson directed several films during the '80s (including the Tom Cruise sex comedy Losin' It), he truly came into his own in the early '90s with a string of successful thrillers. 1990's Bad Influence, a thriller headlined by Rob Lowe and James Spader, led to 1992's The Hand That Rocks the Cradle, which was a box office hit that struck enough of a cultural nerve to inspire its fair share of cliches and parodies. His 1994 thriller, The River Wild, saw him directing Meryl Streep, Kevin Bacon, David Strathairn and John C. Reilly, the kind of ensemble that would soon become the norm in a Hanson production.
In 1997, Hanson produced, co-wrote, and directed the adaptation of James Ellroy's L.A. Confidential and the resulting film has stood the test of time as one of the best movies of the '90s and one of the great neo-noirs. Despite being largely overshadowed by Titanic during awards season, the film ultimately won two Oscars: Best Supporting Actress for Kim Basinger and Best Adapted Screenplay for Hanson and Brian Helgeland. The film is especially noteworthy for taking a chance on two largely unknown actors in the two lead roles – L.A. Confidential is the incredible "before and after" pivot for Russell Crowe and Guy Pearce.
Hanson followed that masterpiece with another. 2000's Wonder Boys is one of the best movies ever made about writing, with Michael Douglas and Tobey Maguire turning in two of the best performances of their careers. In 2002, Hanson was tasked with building a movie around Marshall "Eminem" Mathers and 8 Mile wasn't just a hit – it was a legitimately fantastic movie about the American dream in the crumbling heart of Detroit (and its theme song, "Lose Yourself," would become the unlikely recipient of an Oscar).
Hanson continued to direct throughout the rest of the '00s, helming the poker drama Lucky You, the well-liked comedic drama In Her Shoes, and the HBO original movie Too Big to Fail. His final credit as a director was 2012's Chasing Mavericks.
Curtis Hanson may not be a household name, but he was a unique and consistent filmmaker whose filmography is littered with gems both beloved and under-appreciated. He left a definitive mark on Hollywood and will be missed.