Star Trek Beyond Deleted Scene Released And Blu-Ray Details Revealed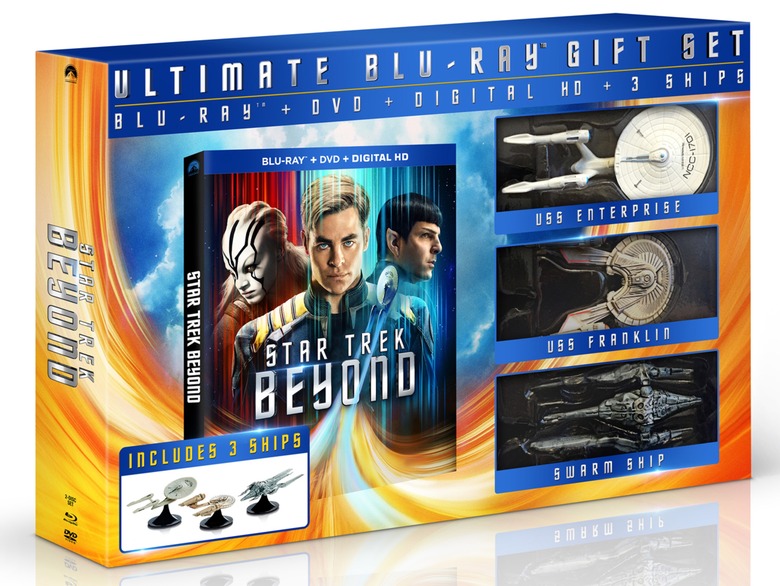 Paramount Home Entertainment has announced that Star Trek Beyond will be coming to Blu-ray and DVD on November 1st 2016. To promote the blu-ray they have released a deleted scene featuring Captain James T Kirk (Chris Pine) and Scotty (Simon Pegg). Hit the jump to watch this Star Trek Beyond deleted scene.
Star Trek Beyond Deleted Scene
The deleted scene, which premiered on USA Today, features a more low-key moment between Kirk and Scotty. It's a short conversation between the two after they arrive at Starbase Yorktown for some R&R. Scotty has other plans when Kirk asks him to hang out.
In the film, Kirk is strongly considering retiring from the USS Enterprise to accept a position as Vice Admiral in charge of Yorktown. And this deleted scene shows not only Kirk struggline to find a personal life outside of work but also how he is out of his element without a starship to oversee. The completed film has the quick pace that has become synonymous with producer JJ Abrams, so it's easy to see how a more quiet moment like this could end up on the cutting room floor.
The Star Trek Blu-ray will include the following special features:
Deleted Scenes – Go Beyond the final cut of the movie with scenes you didn't see in theaters.
Beyond the Darkness – Meet visionary producer J.J. Abrams, director Justin Lin and co-writers Simon Pegg and Doug Jung as they discuss the inspiration for the Star Trek Beyond storyline and how it came to life.
Enterprise Takedown – Experience edge-of-your-seat action and see how a shocking attack destroys the USS Enterprise.
Divided and Conquered – Learn how filmmakers pushed the boundaries in Star Trek Beyond by forcing the Enterprise crew into their most challenging situations yet.
A Warped Sense of Revenge – Meet Star Trek's newest villain, Krall, as actor Idris Elba reveals the backstory behind his character's terrifying ambitions.
Trekking in the Desert – Go on set to Dubai and discover how its futuristic architecture became the foundation for the most innovative Starbase yet.
Exploring Strange New Worlds – Tour the incredible production sets of Star Trek Beyond with director Justin Lin.
New Life, New Civilizations – See how special effects designers met the challenge to create an unprecedented 50 new alien species for the film to celebrate Star Trek's 50th Anniversary.
To Live Long and Prosper – Journey through the past 50 years of Star Trek with J.J. Abrams and the cast as they reflect on the evolution of this iconic sci-fi series.
For Leonard and Anton – Watch a touching tribute to the legendary Leonard Nimoy and beloved crew member Anton Yelchin.
Gag Reel – Join in on the fun with this hilarious gag reel of on-set bloopers.
The film will be released in a bunch or retail exclusive giftsets:
Walmart's set includes the USS Enterprise, USS Franklin and Swarm Ships, Feature Film on Blu-ray and Over an Hour of Bonus Content, Feature Film on DVD, Digital HD.
Target gets Collectible Packaging + Blu-ray Bonus Disc: Includes Interchangeable Character Art Packaging, Feature Film on Blu-ray, Bonus Disc with over 90 Minutes of Content, Feature Film on DVD, Digital HD Included.
Best Buy will be offering the movie in a Blu-ray Steelbook with Exclusive Art: Includes SteelBook Packaging, Feature Film on Blu-ray and over an hour of bonus content, Feature Film on DVD, Digital HD Included.
And Amazon will have a USS Franklin Giftset: Includes Collectible USS Franklin Ship Replica, Feature Film on 4K Ultra HD Blu-ray, Feature Film on 3D Blu-ray, Feature Film on Blu-ray and over an hour of bonus content, Digital HD included
Star Trek Beyond will be released in Digital HD on October 4th, a month before the DVD/Blu-ray release.