'Bad Santa 2' Trailer Promises Filthy, F***ed Up Christmas Cheer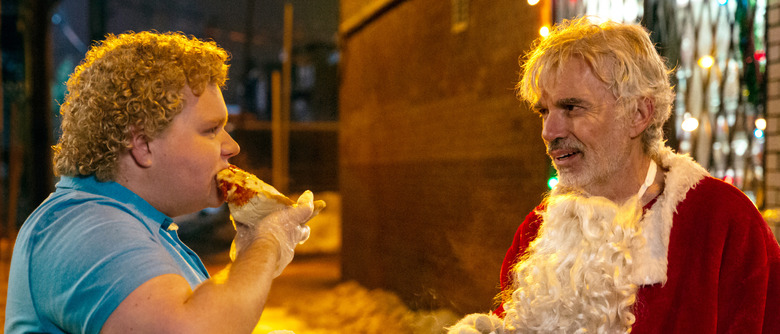 The original Bad Santa did such a great job of balancing salty, sour, bitter, and sweet that it almost looked easy. But with the arrival of Bad Santa 2 this fall, we may get a better look at just how difficult it can be to pull off that trick.
There's some key talent returning in front of the camera. Billy Bob Thornton returns to star as safecracker / mall Santa Willie Soke, along with Tony Cox as Willie's partner in crime Marcus and Brett Kelly as Willie's young friend Thurman Merman. Behind the camera, though, there are some major changes. Mark Waters steps up to the plate as director this time around, replacing Terry Zwigoff who helmed the first film, while Shauna Cross and Johnny Rosenthal step in for Glenn Ficarra and John Requa as screenwriters.
Can they replicate the foul-mouthed hilarity and surprising tenderness of the first film? Watch the NSFW Bad Santa 2 trailer below and judge for yourself. 
Bad Santa 2 Trailer
Well, Willie and his friends are as crude and cruel as they've ever been, and Christina Hendricks and especially Kathy Bates look like they're having a whole lot of fun joining the returning cast on this very NSFW journey. But something about the Bad Santa 2 trailer doesn't quite click. It feels like they're trying too hard to be shocking and outré, ignoring the despair that made the first film resonate. Granted, the hard-R comedy was a huge selling point for Bad Santa and will be again for Bad Santa 2. Maybe the film will reveal more layers once it's in theaters.
Bad Santa 2 is in theaters November 23.
BAD SANTA 2 returns Academy Award®-winner BILLY BOB THORNTON to the screen as America's favorite anti-hero, Willie Soke. Fueled by cheap whiskey, greed and hatred, Willie teams up once again with his angry little sidekick, Marcus (TONY COX), to knock off a Chicago charity on Christmas Eve. Along for the ride is 'the kid' – chubby and cheery Thurman Merman (BRETT KELLY), a 250-pound ray of sunshine who brings out Willie's sliver of humanity.
Mommy issues arise when the pair are joined by Academy Award®, Golden Globe and Emmy-winner KATHY BATES, as Willie's horror story of a mother, Sunny Soke. A super butch super bitch, Sunny raises the bar for the gang's ambitions, while somehow lowering the standards of criminal behavior. Willie is further burdened by lusting after the curvaceous and prim Diane, played by Emmy Award-nominee CHRISTINA HENDRICKS, the charity director with a heart of gold and libido of steel.