Rogue One, Schmogue One: Alexandre Desplat To Score Luc Besson's 'Valerian And The City Of A Thousand Planets'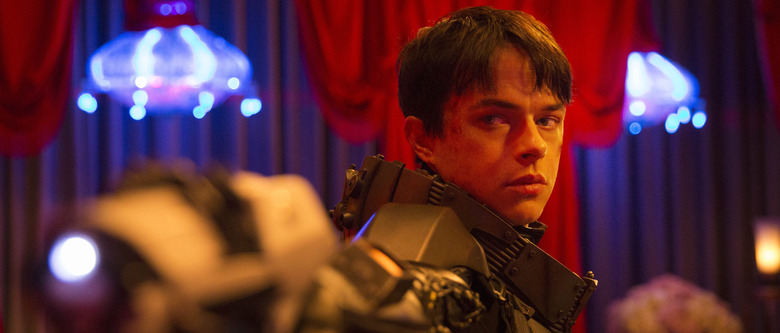 Feel free to insert your own conspiracy theory here: just days after Michael Giacchino replaced Alexandre Desplat as the composer for Rogue One: A Star Wars Story, the latter has gone and attached himself to another science fiction movie. Director Luc Besson has revealed that Desplat, who won an Academy Award for his work on The Grand Budapest Hotel, will provide the score for Valerian and the City of a Thousand Planets. Learn more about the Valerian composer after the jump.
Besson personally revealed the news on Twitter, where he didn't shy away from noting that Desplat was leaving one fantastical space adventure for another:
Alexandre Desplat had to leave the "Black Star" but has a new home in "the city of a thousand planets".
Welcome aboard #Valerian maestro! 🎼😊 pic.twitter.com/tZfKcXB7Gs

— Luc Besson (@lucbesson) September 20, 2016
It's easy to manufacture a narrative here (especially since Rogue One has had its fair share of speed bumps over the past few months), but this definitely aligns with the official version of events. Desplat left Rogue One over scheduling issues that arose after the film had to undergo reshoots, but Valerian's Summer 2017 release date offers him plenty of breathing room. However, I will admit that it's fun to imagine a scenario where Desplat, ousted from one sci-fi gig, decides to jump on board another just to spite Star Wars.
While I would have been very interested to hear what Desplat would bring to the Star Wars universe, the thought of him working with Besson is a fantastic consolation prize. Valerian and the City of a Thousand Planets is Besson's first straight-up space opera since The Fifth Element, and it certainly sounds like a nutty blast of pure imagination. Our own Peter Sciretta described some of the film's crazy action from Comic-Con:
The first sequence, scene 141, showed Valerian running down the hallways of an unfamiliar spaceship. DeHaan is wearing a sci-fi suit that can best be described as looking like something out of Pacific Rim. His partner Laureline is guiding him where to go over a communicator, and directs him to a dead end.
What follows was an absolutely crazy sequence. Valerian activates his suit, which transforms around his head, and runs straight through the wall. We continue with him in third-person video game POV (Besson claims he's never played any video games) as he plows through not only that wall but other walls in a single seamless shot. At one point he crashes through a wall and there is no ground on the other side. He uses his gun to shoot little pods for him to leap off of like a frog on lily pads, as he continues on his sci-fi parkour run. I can't express to you how cool this shot looked. Besson tells us in the final film it continues even further, lasting over 45 seconds.
Desplat, who is so good at injecting whimsy and weirdness into films when required, seems like a good match for material this off-kilter. We'll get a taste of how well it all gels when the film opens on June 21, 2017.