'Luke Cage' Featurette Gets You Up To Speed On The Unbreakable Hero Of Harlem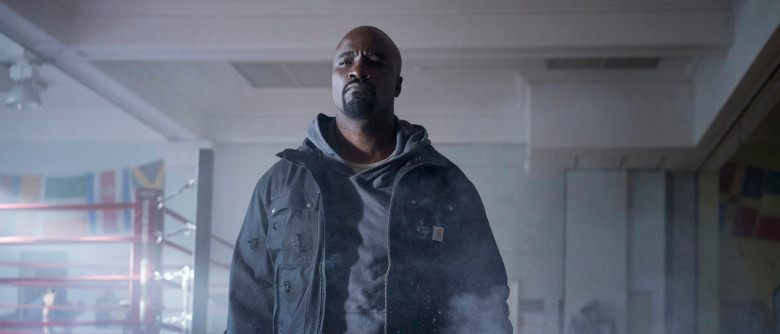 We've already met Netflix's next leading Marvel hero, thanks to Mike Colter's recurring role on Jessica Jones season one. We're familiar with his powers and his personality, as well as the broad strokes of his backstory. But as we approach the much-anticipated premiere of the Luke Cage solo series, Netflix thinks there are a few more things we ought to know. A new Luke Cage featurette gets us up to speed on the man with unbreakable skin — what he's been up to since we last saw him, and where he's headed next in his own show. 
As was made clear in Jessica Jones, Luke Cage has no real interest in being a hero. He's got more than enough on his plate already. "He has powers he didn't ask for, the woman he fell in love with is dead, and he was put in prison for a crime he didn't commit," says showrunner Cheo Hodari Coker. So following the events of Jessica Jones, he realizes that, contrary to what Daredevil might have you believe, it's actually pretty easy to get out of Hell's Kitchen, and heads uptown in Harlem.
At first, he tries to lay low. He picks up a new job at a barbershop and otherwise just tries to mind his own business. But as we also saw in Jessica Jones, Luke Cage will step up and become the hero if he has to. And with Cornell "Cottonmouth" Stokes (Mahershala Ali) running around, Harlem could definitely use a savior. "If you see a need, and you decide that it's your responsibility to address it, that's the hero's journey," explains Rosario Dawson (Claire Temple).
There are a thousand reasons to get excited for Luke Cage, from the talent in front of and behind the camera to the '90s hip-hop flavor to the gritty yet colorful style to the timely significance of a bulletproof black man. But as a New Yorker, I'm especially interested in seeing Netflix's corner of the Marvel universe expand uptown. Harlem is only a few miles away from Hell's Kitchen, but already the Luke Cage promos have given us a strong sense of the neighborhood's distinctive vibe. If this show is half as good as the promos make it look, it may well be Marvel's best TV series yet.
Luke Cage season one hits September 30 on Netflix.