'The Whole Truth' Trailer: Would You Trust Keanu Reeves To Get You Out Of Jail?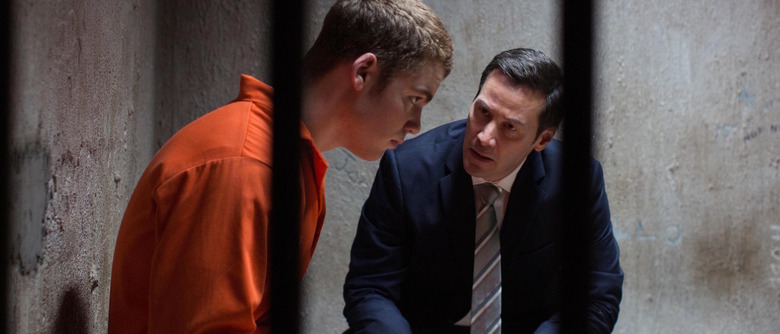 Keanu Reeves has been killing it lately in a variety of offbeat projects, from John Wick to The Neon Demon. He even acquitted himself quite nicely in The Bad Batch, which is more than we can say for either of that film's actual leads. Now this fall he'll return to more straightforwardly dramatic fare with The Whole Truth, the new legal thriller from Frozen River director Courtney Hunt.
Written by Nicholas Kazan, The Whole Truth centers on a shocking murder trial. A teenage boy (Gabriel Basso) has been charged with murdering his father (Jim Belushi), and his mother (Renée Zellweger) hires defense attorney Richard Ramsay (Reeves) to defend her. The case seems straightforward at first. The boy has confessed to the crime, and all physical evidence seems to back him up. But as the trial moves forward, Richard's colleague (Gugu Mbatha-Raw) begins to suspect that not all is as it appears. Watch The Whole Truth trailer below. 
It seems like this trailer reveals an awful lot, down to what looks like a shot of Zellweger Gone Girl-ing herself. Here's hoping the case turns out to be even more complicated than the trailer makes it look, with still more twists and turns to come. It could be silly, but it might be a whole lot of fun.
The Whole Truth arrives in theaters and on demand October 21.
Defense attorney Richard Ramsay (Keanu Reeves) takes on a personal case when he swears to his widowed friend, Loretta Lassiter (Renée Zellweger), that he will keep her son Mike (Gabriel Basso) out of prison. Charged with murdering his father, Mike initially confesses to the crime. But as the trial proceeds, chilling evidence about the kind of man that Boone Lassiter (Jim Belushi) really was comes to light. While Ramsay uses the evidence to get his client acquitted, his new colleague Janelle (Gugu Mbatha-Raw) tries to dig deeper – and begins to realize that the whole truth is something she alone can uncover.